14 Minutes of reading
What is the value of collaboration tools for a company?
Work emails can be a real bugbear for employees. All employees know what it's like to face a daily barrage of emails, or even worse, returning from a holiday to a deluge of emails. An average of 88 emails are received every day in work according to a survey carried out by research firm Radicati Group . Executives appear to be particularly sought-after: according to an Adobe study, they spend more than half their day checking their email (5 hours on average)!



But don't these figures describe a reality of the past? Because today there is a solution to avoid the cumbersome exchange of emails and the time wasted processing them: collaboration tools.
The use of online collaboration tools has literally exploded since the health crisis and the hybridisation of work. Their use is growing together with collaborative work.
In this article, Rise Up takes a look at the value of collaboration tools in business.

Collaboration tools: definition
One of the challenges of working remotely is to be able to collaborate with colleagues effectively. To meet this challenge, companies are experiencing the need to implement a collaboration tool (often several) that is easily accessible by its staff.
So, an online collaboration tool is a digital solution designed to facilitate teamwork within an organisation. In concrete terms, it allows files (work documents, resources, calendar, etc.) to be shared and modified, and enables instant interactions between individuals, and even among large teams. The aim is to exchange information without the constraints of time or location.
Collaboration tools make collaborative work faster, smoother and more dynamic within companies. Drawing up an action plan, monitoring a project's progress, planning work meetings: all these tasks are carried out more quickly.
In addition, whether used permanently by a team or temporarily by a project group, this type of solution improves the quality of communication, and reinforces mutual support and listening.
What are the advantages of collaboration tools?
Improved productivity
Collaboration tools enable real-time exchanges and continuous input of ideas. The result is not only saved time for employees, but also an increase in creativity and commitment. The more motivated and stimulated by group work, the greater employee efficiency. In other words, online collaboration tools help generate productivity at work.
A fluid validation workflow
The second advantage of collaboration tools in companies is that they facilitate the validation process. Each step is not only approved more quickly, but in a more seamless manner. As the data is centralised and accessible to all at any time, there are fewer back and forth interactions, and so the flow of information becomes more reliable.
As a result, collaboration tools also improve responsiveness and speed up decision-making.
Closer-knit teams
Uniting a team is of course possible even in the context of collaborative work. Once again, collaboration tools provide the solution. Video conferencing platforms, of which Zoom is the model, and messaging applications such as Slack ensure continuous communication between employees. This enhances teamwork. Work groups become more cohesive, and the work atmosphere becomes more stimulating.
Greater flexibility and mobility
Another advantage of collaboration tools in companies is that they are perfectly adapted to a flexible and mobile way of working. Based on new technologies and news ways of doing, online collaboration tools are designed for mobile use, too.
Employees who frequently work off-site (such as salespeople) have the same advantages as their on-site colleagues: all applications and functionalities are accessible via their mobile device. They can therefore consult the latest information posted in a work group and communicate in real time with their colleagues.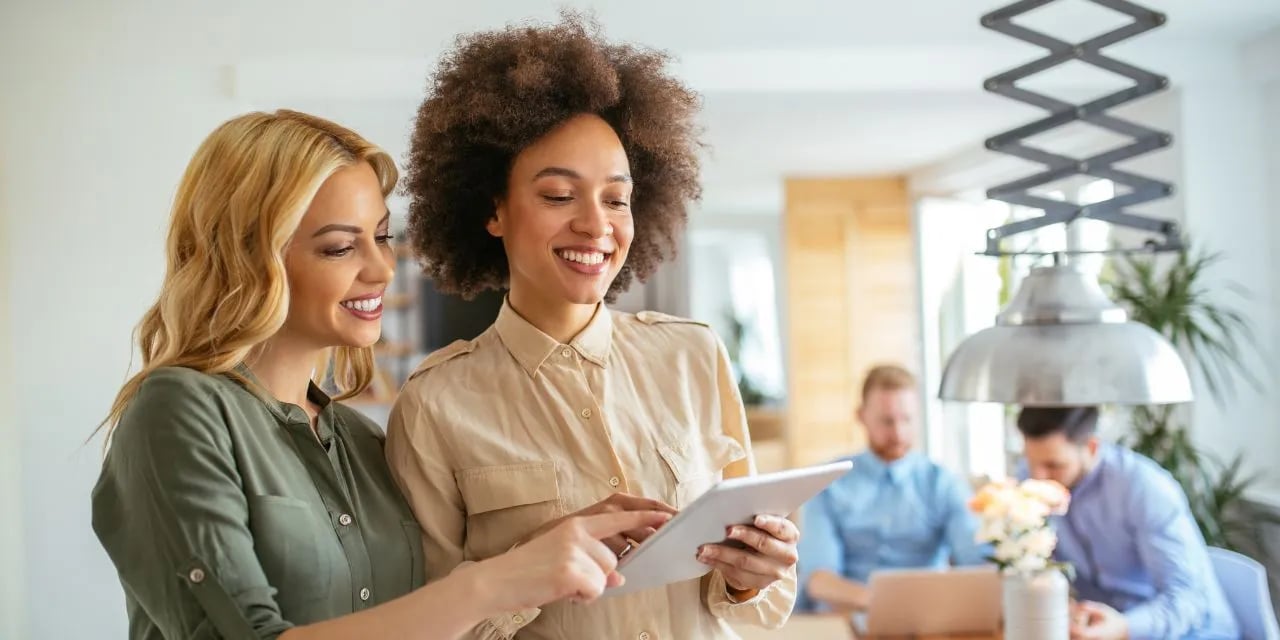 Which collaboration tools are right for your company?
Collaboration platforms
When it comes to collaboration tools, collaboration platforms feature prominently. The preferred solution for many companies, they are proving to be indispensable in the context of hybrid work.
So, what exactly is a collaboration platform? It is a virtual workspace in which all of the tools and resources required for carrying out projects and team missions. The aim: to facilitate communication and interactions, speed up work and simplify project management.
Microsoft Teams is one of the best-known collaboration tools. It offers instant messaging, video conferencing, Office applications and segmented communication channels. A comprehensive platform that is competing with Slack and Google Workspace.
Collaboration tools for project management
Collaboration tools for project management are also useful for companies and their employees. It is now very simple to create specific discussion threads and task lists. Planning, follow-up and management: each aspect of project management is taken into account.
These types of collaboration tools have grown enormously in recent years. A wide range of options is now available to companies. Trello, Wimi or Azendoo are dedicated to project engineering, for example.
Collaboration tools for video conferencing
Video conferencing is one of the most frequently used collaboration tools in companies, enabling us to organise and attend virtual meetings. The value of a collaborative video conferencing tool is pretty obvious: it facilitates communication both internally and with external partners, distributors and/or customers.
These online collaboration tools are nothing new. Skype, launched back in 2003, was the forerunner. Zoom software was created about ten years ago.
File sharing tools
File sharing tools were also among the first collaboration tools to be introduced. The aim here is to centralise, store and share resources. Solutions such as Dropbox, Google Drive and Microsoft 365 offer several interesting features for organisations: online file backup (very useful to avoid losing or accidentally deleting them), the option to modify them, comment on them and share them with anyone inside or outside the company.
Knowledge base
Defined as a library of online resources, the knowledge base is a valuable collaboration tool. It preserves the wealth of a company, i.e., its knowledge. As a result, its content is extremely varied: legal information, procedures, FAQs, problem-solving and product use guides, terms and conditions, etc.
In companies, this collaboration tool responds to the needs of employees and/or customers, and means they have the information they're searching for at their fingertips. In other words, each piece of knowledge stored in the knowledge base becomes data that can be used internally and/or externally.
How can you choose the collaboration tools to suit your business?
An essential phase before committing to any collaboration tools: the audit. Whatever the company, it is essential to take sufficient time to fully define its needs and expectations and to take stock of the software and other programmes already in use (are they effective? If not, why?) It is of course essential to establish clear objectives and to target specific elements to be impacted by these online collaboration tools. This work will make it possible to "weed out" the existing solutions, at a time when the market is saturated.
Are projects not progressing as quickly you wish, due to organisational 'hitches' or staff shortages? Then you will have to go for an application dedicated to project management.
Are employees seeing an increase in the volume of their emails and are interactions becoming more complex? In this case, instant messaging is what's required.
Other problems: staff working 100% from home and/or projects requiring interaction between several departments in the company. In these situations, a complete solution such as a collaborative platform seems appropriate.
The important thing, once again, is to define the main use case of the company collaboration tool. Sometimes it turns out that several are required. To ensure their effectiveness, the organisation must ensure that it are well organised and connected. The chosen solutions must be user friendly, and training for employees with insufficient digital skills must be provided. The final objective is, of course, to meet the needs of employees and the company as a whole.
Involve employees in choosing collaboration tools to best train them
Another prerequisite before implementing collaboration tools in the company: involve employees. The company should never lose sight of the fact that its employees are the ones who use it on a daily basis. A relevant remote collaboration solution means that it is perfectly suited to their line of work, position and their current and future missions.
Moreover, including employees in the decision-making process has positive effects on their mindset: they feel heard and valued, which will boost their commitment and motivation to take new collaboration tools on board. Better still: it is in the company's interest to find volunteers who will test the various solutions and provide useful feedback.
The involvement of employees does not only take place upstream. Once the tools have been put in place, employee support is essential, so that they quickly master them.
The ability to adapt depends on the individual. Digital fluency is also not the same. As a result, implementing one of more collaboration tools in a company requires evaluating skills and, as we have mentioned, planning targeted training.
Communication at every step of the process is also crucial, so that employees are supported "gently" throughout this important transition. Working habits and methods can be disrupted.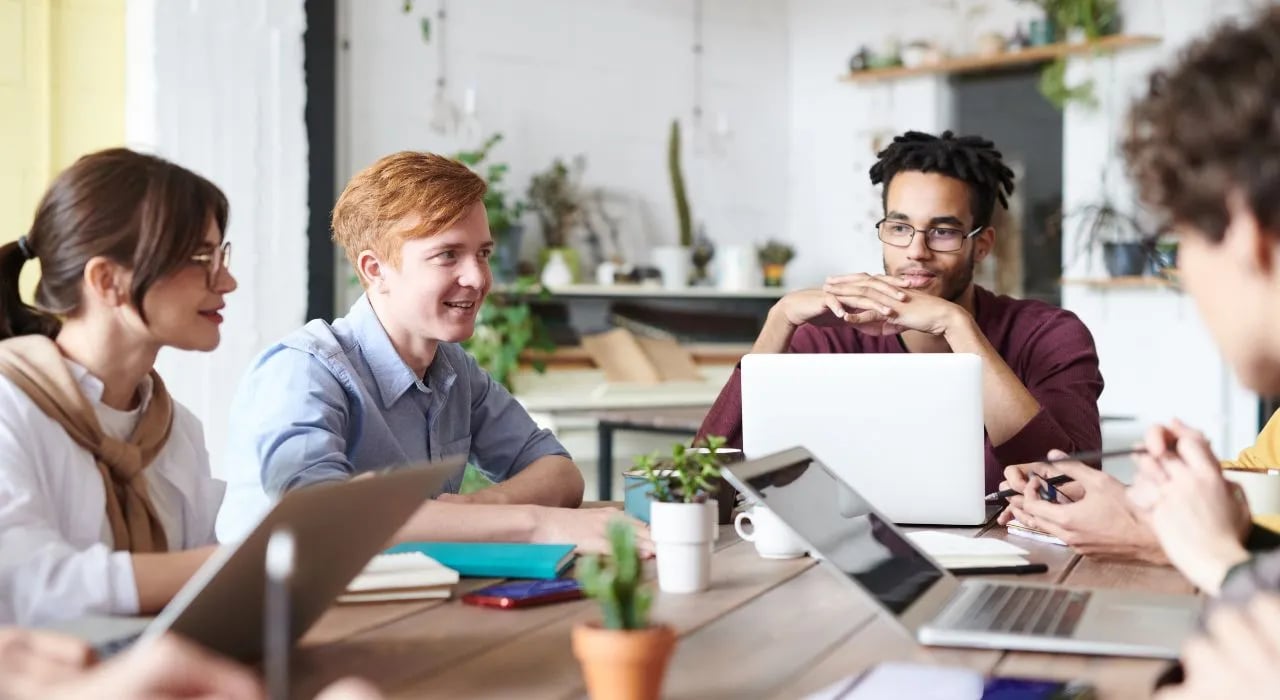 Distance work tools for collaborative learning
One of the major consequences of implementing collaboration tools is the development of collaborative learning, and the company must capitalise on this. What exactly is it? Collaborative learning is when two or more people focus on learning something together. Everyone puts their knowledge and expertise at the disposal of others. Thanks to online collaboration tools, knowledge and experience are pooled, shared, enriched, discussed, etc. The result is that employees become more competent thanks to the links they create and develop between them.
Collaboration tools such as Microsoft teams are proving to be perfect supports for this new way of learning. Learning in the flow of work therefore becomes an everyday reality. One of the objectives of Rise Up is to support this trend. This is why its LMS is directly accessible in Teams, facilitating the development of new professional skills for employees. In other words, employees have access to their training without leaving their workspace, thus without "breaking" the exchanges with their colleagues. In this way, collaborative work is continuously enriched.
L'une des conséquences majeures de la mise en place d'outils collaboratifs : le développement du collaborative learning, sur lequel l'entreprise doit capitaliser.
Free (and paid) collaboration tools
There are many free and paid collaboration tools. As we have said, the range of services on offer has grown considerably in recent years.
Let's take a look at a few collaboration tools recommended for companies.
Google Drive
The hugely popular Google Drive enables us to store, organise and share all types of files with our colleagues or anyone outside of the company. For example, we can work together on a presentation, revise a text written by someone else, view a slideshow, etc.
Dropbox
A direct competitor of Google Drive, Dropbox has long been a go-to collaboration tool for many companies. Accessible on desktop and mobile, this application offers the possibility to save and share files of any size.
Trello
This is one of the most popular project management tools. With a focus on the visual and user friendliness, this application segments projects (each project is represented by a table) and tasks (each task is represented by a card). Then users simply create columns (such as "to do", "in progress", "completed") and drag the cards into them.
Evernote
Evernote is an ideal online collaboration tool for centralising and sharing ideas, whether in draft or final form. In some ways, it is like a virtual notebook.
Mural
A brainstorming solution that's growing in popularity, Mural works in a super simple way: each person posts ideas on a "wall" visible to all. Text files, videos and images can be uploaded there.
Slack
Slack's main aim is to facilitate interactions within the company. Different communication channels are created as needs and projects arise. Slack also includes audio and video call features.
monday.com
Another tool to support collaborative work is monday.com. A clear interface shows the progression of tasks carried out by each employee working on one project. This application also offers file sharing.
Talkspirit
An all-in-one collaborative platform, Talkspirit combines document and agenda management, community management and communication features (video conferencing, chat, etc.).
Microsoft Teams
A quality collaborative space, this platform allows several people to work on all types of documents, to create project groups and to communicate via instant messaging and an integrated video conferencing system.
Microsoft 365
Microsoft 365 brings together a range of services designed to boost productivity. Among them: a suite of office applications, Teams (which we have just discussed), and a file storage and sharing space.
These few examples illustrate the value of collaboration tools for companies and their employees! Productivity, creativity, commitment and motivation, working atmosphere: well-chosen solutions have positive effects on many aspects of working life.