13 Minutes of reading
Eight essential tools for a successful e-learning course
In recent years, e-learning has begun to completely displace traditional forms of training. With the promise of faster, more efficient upskilling, it's little wonder that more and more businesses are adopting this approach.


However, if you're used to carrying out your training in a classroom setting, switching to e-learning can be tricky. That's why we've put together a list of essential tools that can help anyone to create high-quality, engaging e-learning content. Let's dive in!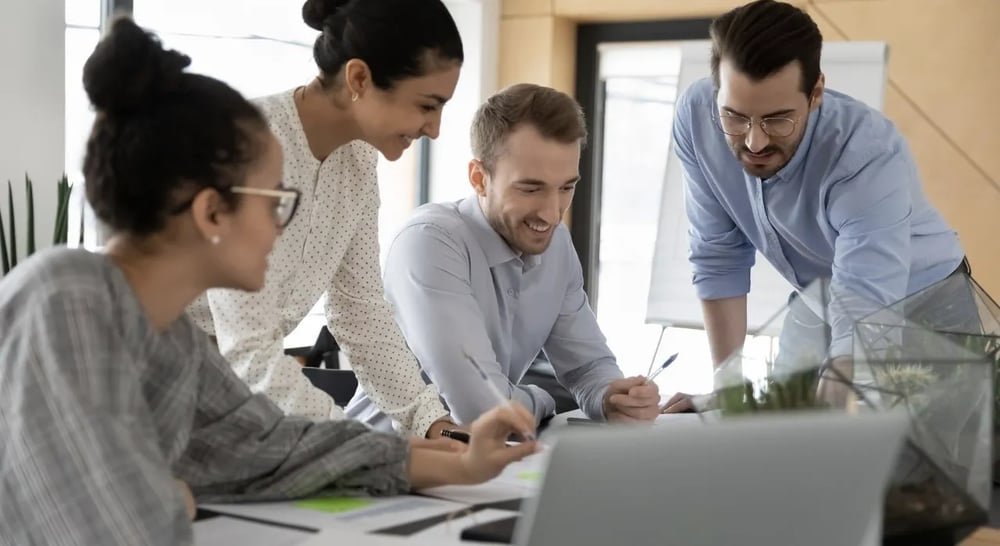 Intro to e-learning

If you're still unsure what e-learning is all about, we'll provide a quick primer. Essentially, it's a teaching method that is available online and accessible anywhere via a computer, tablet or smartphone. The content is created by trainers and instructional designers and made available to learners using platforms such as an LMS.

The key advantage of e-learning is that it frees learners from having to attend training sessions at a particular time and place. Instead, they're free to access learning materials anywhere and at any time.

While this is clearly a positive for learners themselves, companies can benefit too. That's because they no longer need to shell out for the often exorbitant costs associated with sending employees to another location, such as accommodation and travel expenses. Instead, training can take place in the office—or even remotely!

Additionally, learners are free to move through e-learning courses at their own pace. This contrasts with classroom training, where the trainer dictates how quickly the whole group covers a certain topic.

E-learning even allows learners to revisit previous modules, or retake an entire course if they feel they need additional training. Thanks to measures such as this, it's more likely that your employees will retain their new knowledge and skills.

In summary, then, e-learning offers businesses the ability to train their employees more efficiently, all while saving money. Employees, meanwhile, have more control over their schedule and benefit from greater flexibility. What's not to like?


Choosing the right e-learning tools: asking the right questions

If you wish to create your own e-learning content, you'll need to choose the right software and apps to help you get the job done. However, it might not always be easy to tell what will actually be useful to you. We've compiled a few questions that are worth asking yourself before investing in any new tools.

Is it easy to use?

Depending on the size of your team, the amount of time you're able to devote to learning how to use new software will vary. Say, for example, that there's only one person in your business in charge of creating training content. Any tool they use will need to be easy to get to grips with, as they'll have to spend most of their time creating modules or running virtual classes.

Similarly, before opting for a particular piece of software, be sure to check what kind of support is available for it. A comprehensive user guide should be a minimum, but also look out for any tutorials or a good after-sales service.

What kind of learning content do I want to include in my e-learning modules?

This question might feel obvious, but it's still worth including here. If you've got no plans to create video content, for example, then there's no need for you to invest in video editing software. Likewise, if you already have an app that does a particular job well, then you won't have to get another one for the same purpose.

If, however, you're looking to create content in a particular format, then you need to ensure that you have the right tools for it. This might include, for example, creating a serious game to illustrate a concept in a more practical way. You'll also need to ensure that any software you choose has the range of features that you're looking for.

By establishing in advance the kind of content you want to create, you'll be able to find the most appropriate tool more quickly, and strike the right balance between functionality and budget.

How much am I prepared to invest?

While we're on the subject of budgets, it's time to talk about how much your business is willing to spend on new software. This needs to be set in advance so that your company is able to set an appropriate figure that will allow you to create great content without breaking the bank.

By having a set budget, you can easily avoid tools that are beyond your business' means and can focus on those that will benefit you most. This will also help you to determine which apps are worth splashing out on and which can be replaced with freeware alternatives.

If you have plenty of money to play with, then feel free to spend money on tools that are ultra-rich in features. However, if you're counting every penny, then make full use of free trials to see which tools are worth the cash. That way, you know that any apps you do use have been put to the test and will truly be useful.

Of course, creating great content will often involve spending at least some money. The important thing is to ensure that you invest wisely so as to get the maximum returns. Aim for tools that will help you to save time and produce the best quality e-learning materials possible!


Eight essential e-learning tools

Desktop applications
Articulate 360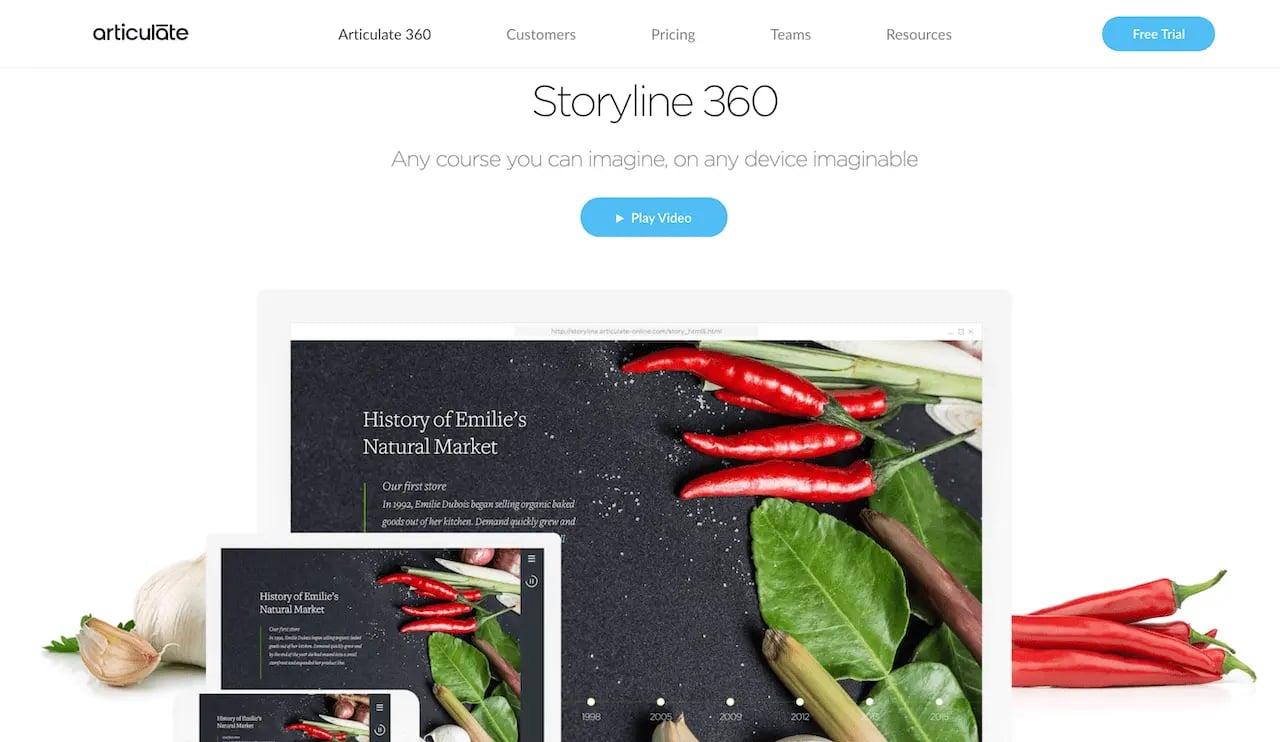 Articulate 360 is a suite of e-learning management apps, including tools for content authoring, collaboration, asset sourcing and more. Notable amongst them is Storyline 360, which allows you to create interactive training modules from scratch.

The features offered by this app are wide-ranging, including gamification, videos, webinars, quizzes, assessments and more. This means that you can provide your learners with truly varied and engaging training courses.

Getting used to the Articulate 360 suite is easy. After installing the app, you can find the full range of tools on your PC. Simply launch Storyline 360, for example, and you'll have the option to start with a blank document or from an existing PowerPoint presentation. You can also import Excel data for use in quiz design, and even create custom courses based on learner responses.

As the world of training changes, so too does Articulate 360, and by subscribing, you'll have access to regular updates. What's more, you can find a number of useful help articles via their website, allowing you to get to know each tool better.

Prices from $499 per user per year

Elucidat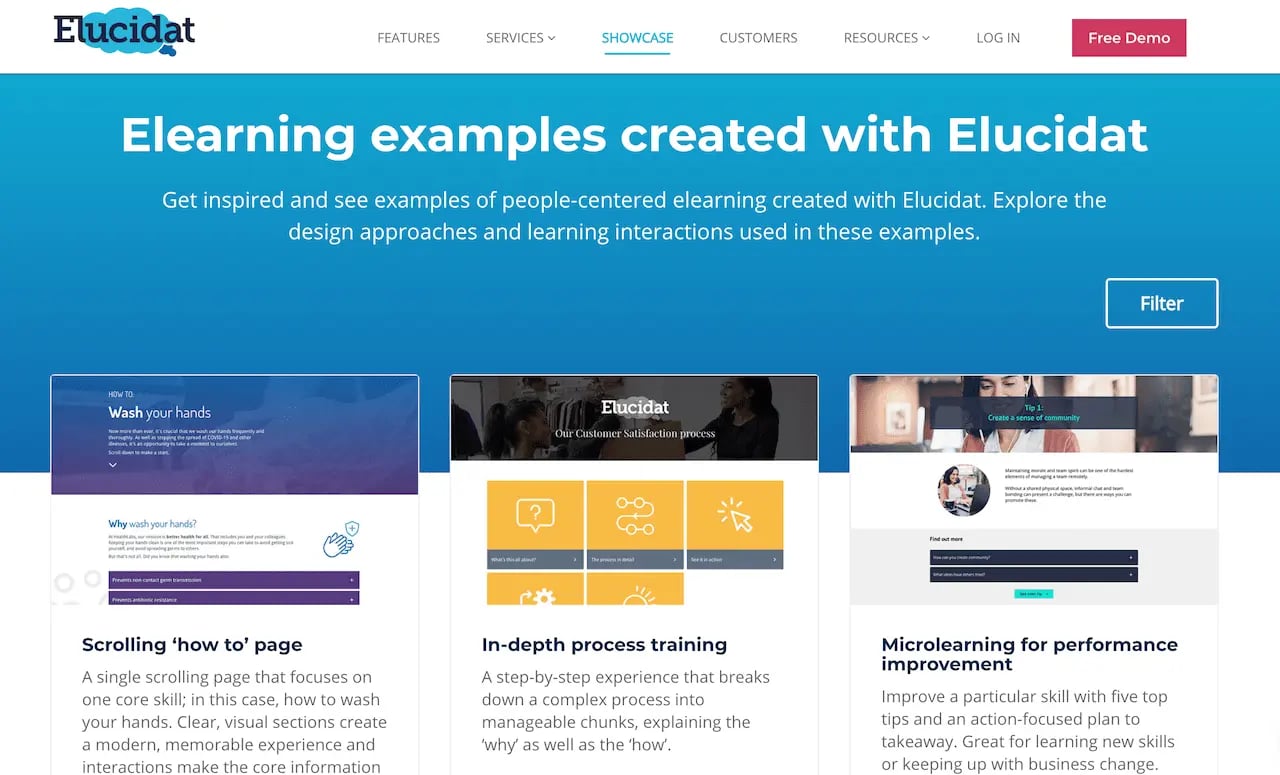 Elucidat is an authoring tool that allows you to create high-quality e-learning content. Its primary audience is larger organisations with 2,000 learners or more.

Using Elucidat, you can put together a variety of different content, including interactive presentations, videos and even gamified courses. This makes it ideal for creating engaging e-learning modules.

Once you launch the software, it's easy to import or modify existing files, as well as to use the in-built templates to create new content. You can also use its responsiveness tools to create modules that can be viewed on mobiles, tablets or PCs.

Best of all, Elucidat is designed to allow designers to collaborate with one another easily. Whether you're a training content creator, proofreader or developer, you can work together by leaving comments on the same module in real time.

iSpring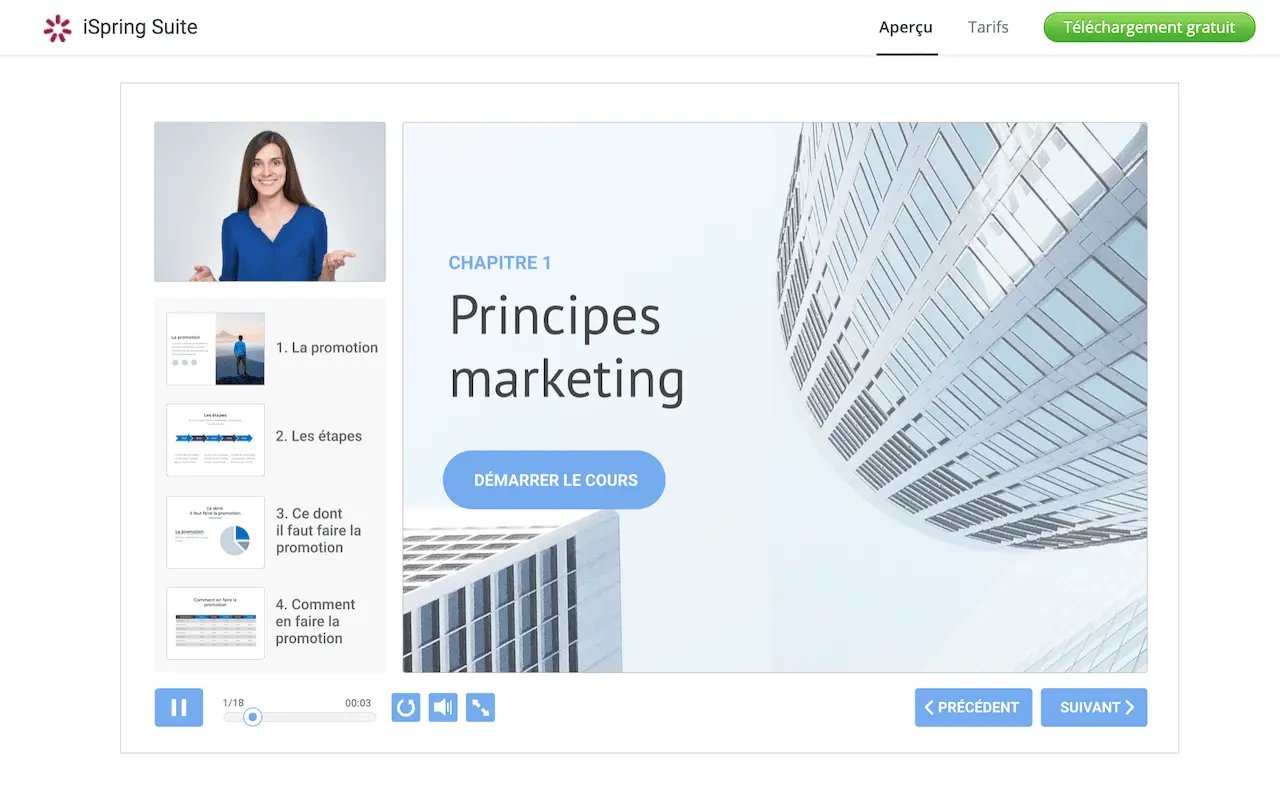 Compatible with many different learning management systems, iSpring is another authoring tool that makes it easy to create new e-learning modules.

Interactivity is key to everything iSpring does. You can create engaging training courses that incorporate a huge range of learning formats, from videos, quizzes and webinars through to audio recordings and certificates.

You can also add iSpring directly to PowerPoint. Once the apps are connected, you can quickly turn your slideshows into e-learning modules ready to be used online.

iSpring also offers an extensive content library that you can take advantage of, including templates, backgrounds, characters and icons. There's even an offline learning feature which enables your team to access courses at any time, without an internet connection.

Prices from £570 per author per year

Web applications

Genially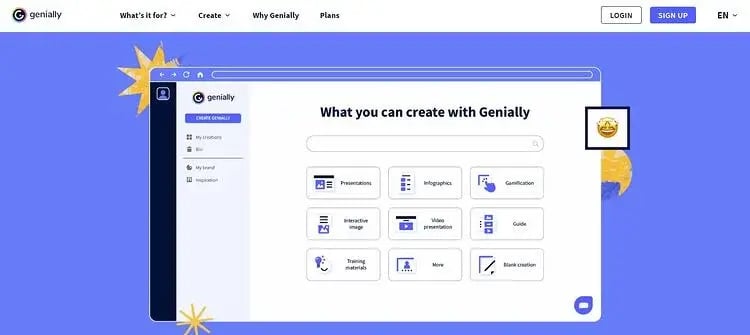 Genially is a tool that focuses on the creation of interactive visuals including any media of your choice. The idea is to enable creators to put their audio and visual assets to better use, allowing both individuals and professionals to captivate their audience and to highlight their content within a broader digital marketing strategy.

Using this tool, you can create presentations, documents, interactive images, videos, infographics, and gamified content, such as escape games. Best of all, every element you add can be made interactive.

Genially gives you access to a vast array of templates across numerous categories. You can even use the Inspiration section to see what other users have created.

As with most web apps, you can create some content for free, but certain features are restricted to users who have upgraded to the Premium version. This includes setting your own logo, colours, typography and more. There's also the ability to download your designs for printing purposes, as well as an SEO tool and unlimited access to all templates.


Powtoon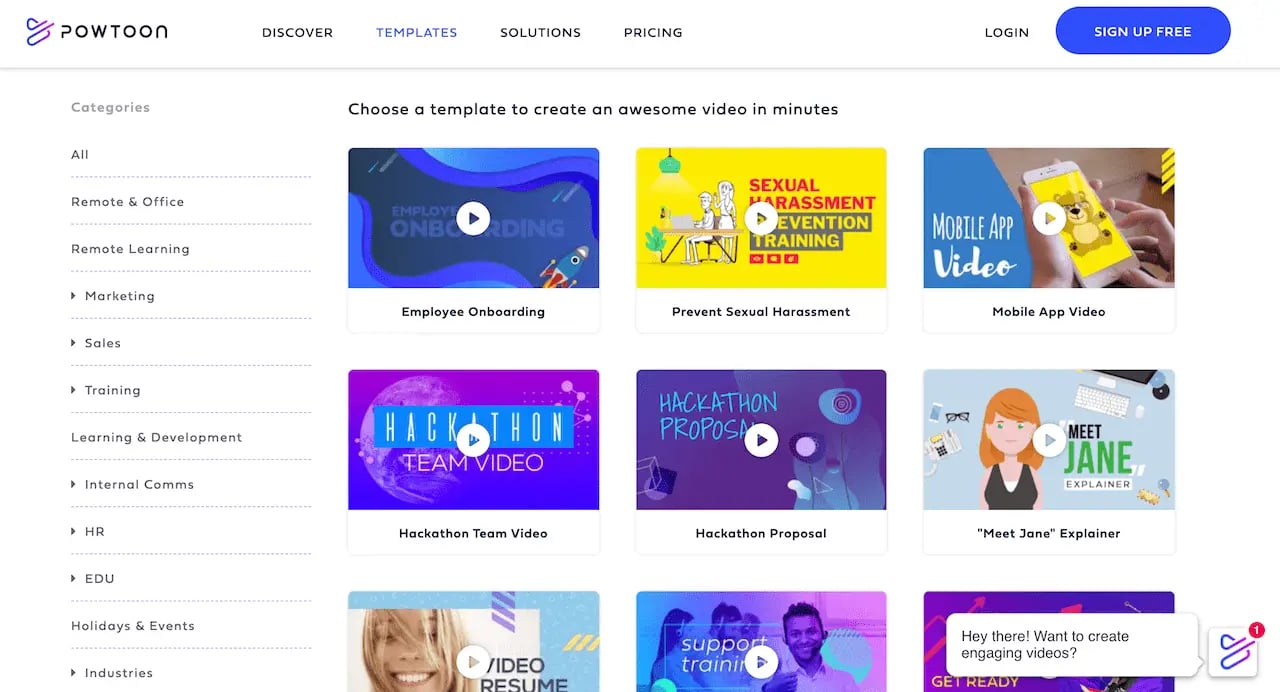 Powtoon is a tool that makes it surprisingly easy to make animated videos. You don't need to be an expert to use this app, and it allows you to create impactful content that suits your audience perfectly.

To use Powtoon, you need to create an account. If using the free version, your videos cannot be longer than two minutes, and it isn't possible to download them in MP4 format—though you can share them on social media.

With Powtoon, you can either start from an existing template or create a video from scratch by designing it yourself. It's then a simple matter of importing it into your LMS and incorporating it into one of your e-learning modules.

In brief, if you're looking for a simple way to create engaging e-learning content, Powtoon is one of the best options around.

Canva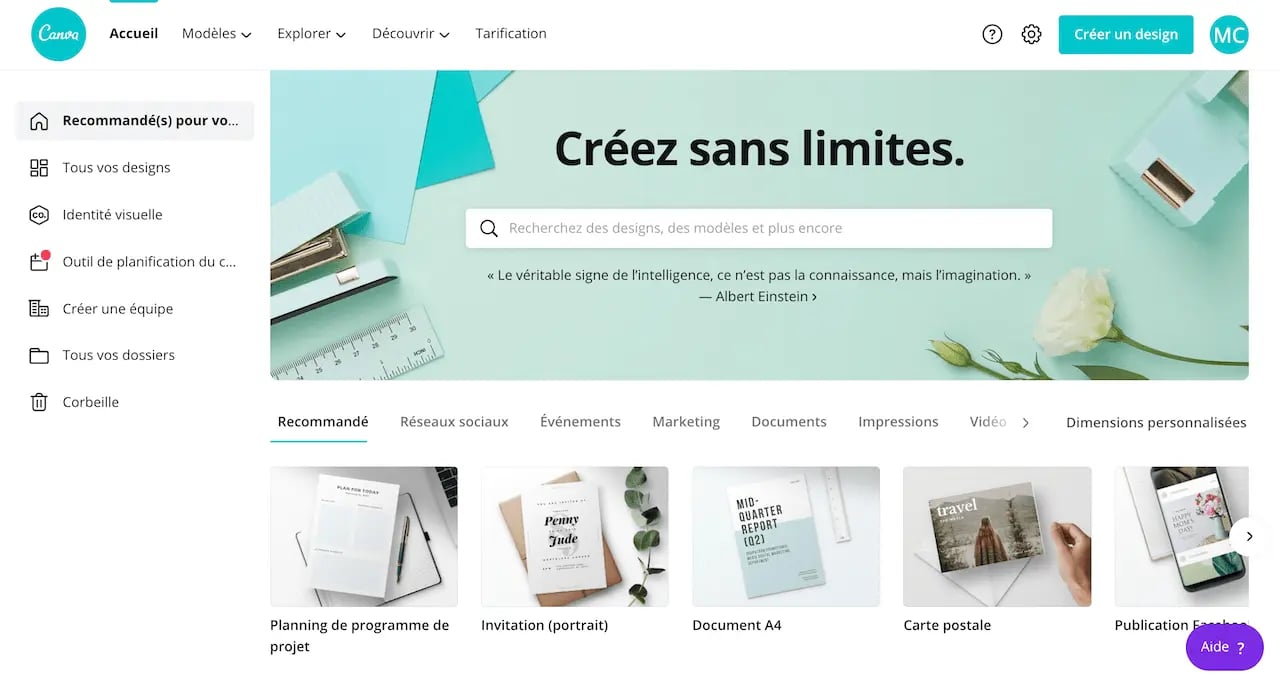 With Canva, you can produce unique designs quickly and easily for use across social networks, websites, blogs and more.

There are two primary advantages to using Canva. First off, it has an enormous variety of features, with many different templates and assets available to users. In just a few clicks, you can design a social media post, brochure, flyer, report, infographic, slideshow, video, collage, poster… you name it!

The second plus point is the price: most of the features offered by Canva are completely free. Paid plans, meanwhile, give you access to a wider choice of images, graphical elements and templates. There's also the option to remove backgrounds, resize designs and add Brand Kits featuring custom fonts, logos and colours.

Ubicast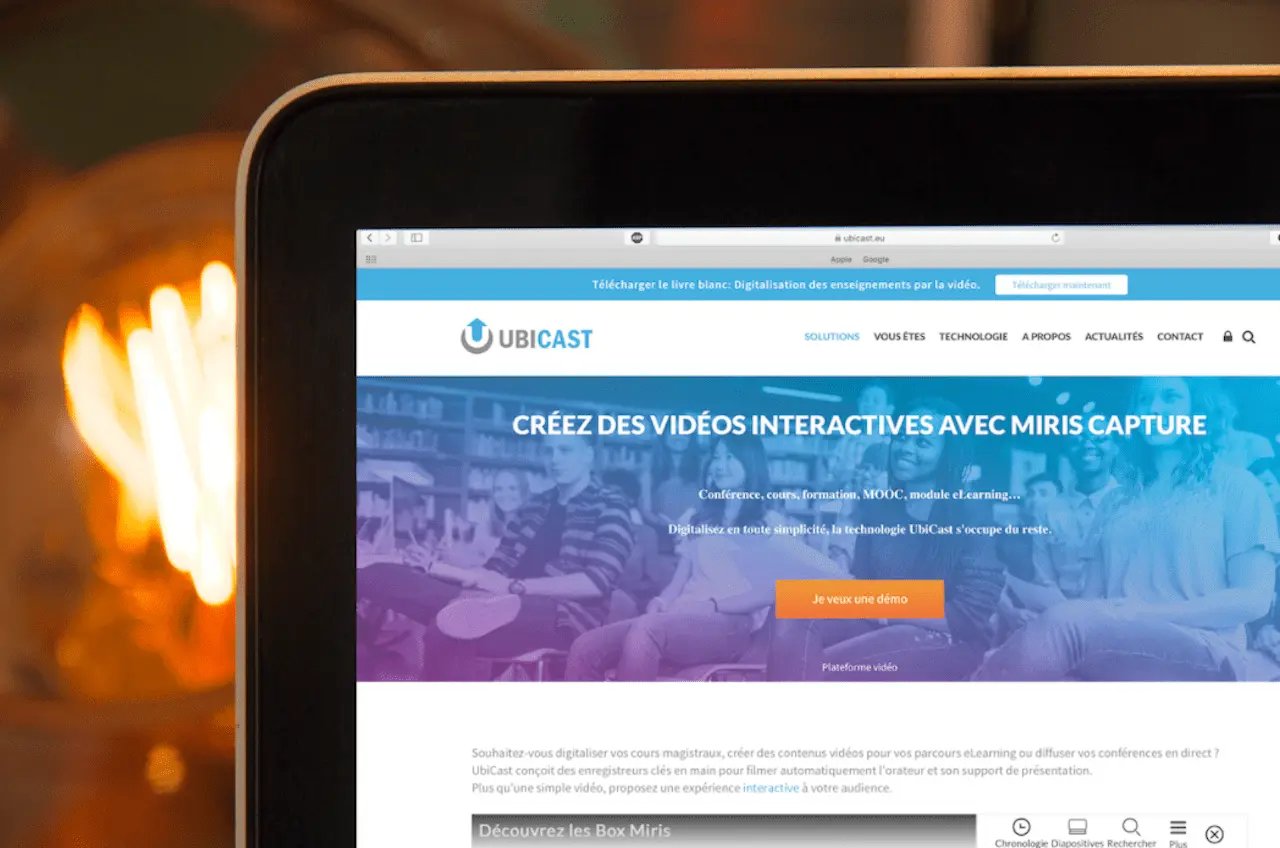 The European leader in course recording, MOOCs and webcasting, Ubicast is an easy-to-use, comprehensive tool that allows you to create engaging content simply by recording your screen.

Ubicast makes it simple to create walkthrough videos that can be used on your LMS or even in a webinar. All you need to do is capture your screen and record your voice!

Powerpoint extensions

Slideshare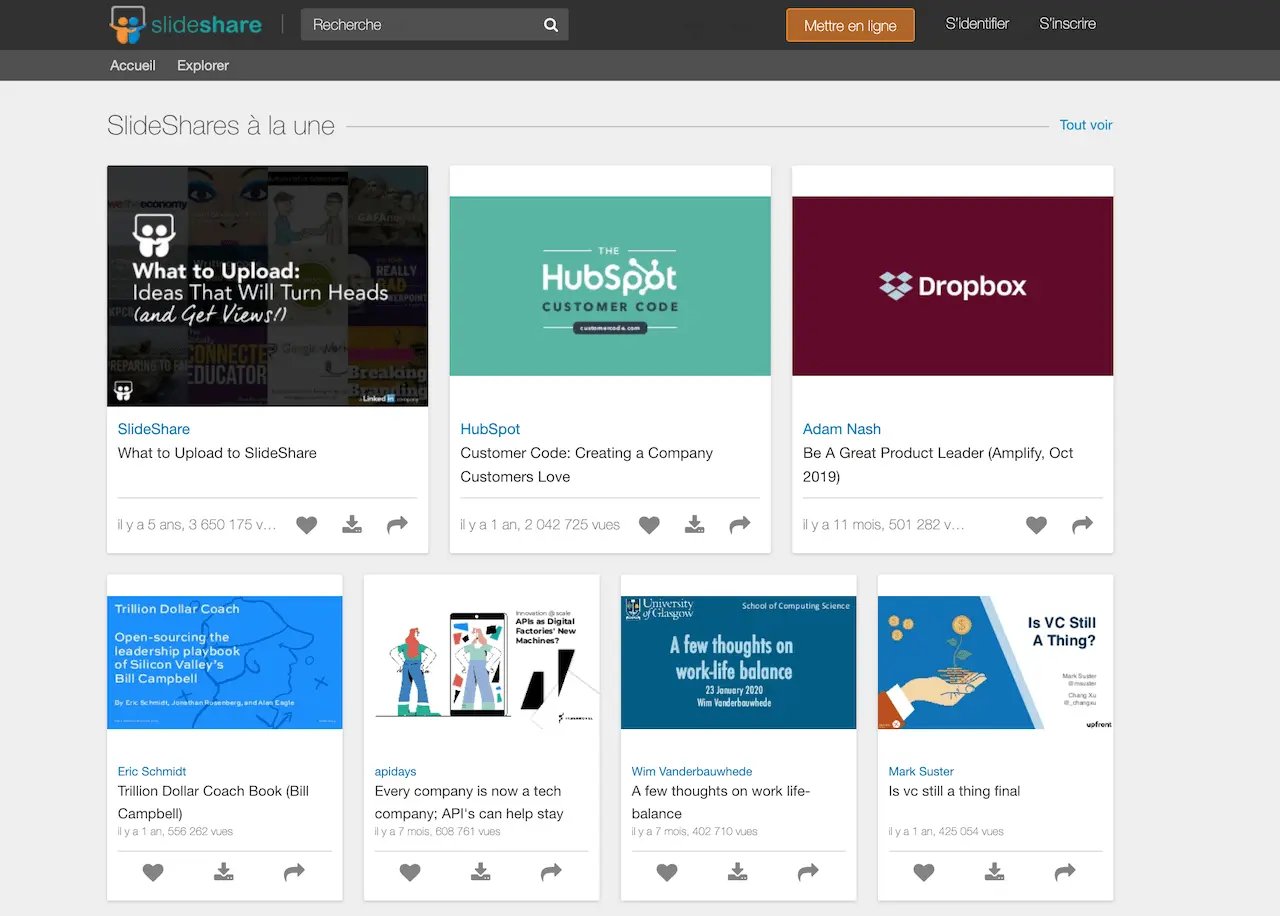 Launched in 2006, Slideshare allows users to upload and share their PowerPoint presentations. It's a great choice for businesses across any sector looking to make their content available more widely—or, conversely, individuals looking to check out slideshows from a range of different companies.

Slideshare aims to facilitate knowledge sharing, with its content easy to download, edit and share via social networks. Acquired by LinkedIn in 2012, it has been completely free to use since 2014.

That completes our roundup! Now you have a full range of e-learning tools to try out, so go forth and create some great training content!