7 Minutes of reading
6 effective and engaging off-the-shelf content formats
Businesses across the globe are all looking for ways to upskill their employees quickly and effectively. Putting together a bank of training materials is key to this. To make things easier for you, we've created Rise Up Content: a catalogue of e-learning modules in a variety of engaging formats that you can use straight away. In this guide, we'll highlight six of our favourite off-the-shelf content formats that your team will love.

Compiling a training catalogue: two routes
Design your modules in-house
The first option for businesses and training organisations looking to build up a collection of e-learning content is to create it in-house. Instructional designers and trainers can easily produce new modules using authoring tools built into their LMS. Alternatively, you can create training content using a different piece of software and upload it to the platform.

The advantage of going down this path is that you have total control over the training materials you produce. This means that you can create a training catalogue that fits your needs to a tee.

However, this method is not without its drawbacks. Firstly, it can take a great deal of working hours to design the content, taking your employees away from other tasks. Additionally, not every business has the right team on hand to create training materials in-house.
Use off-the-shelf training content
The alternative to custom-made content is to use off-the-shelf modules. These are created externally by companies specialising in e-learning, and offered by the provider of your LMS platform. All you need to do is log in and choose the modules you need!

These modules use a variety of different learning formats that help to grab employees' attention and keep them engaged. You can teach a broad range of skills using off-the-shelf content, including management, foreign languages, and how to use software.

Since off-the-shelf training content tends to focus on skills that are applicable across a multitude of sectors, these modules can be used by many businesses and rolled out at scale.
Creating the perfect training catalogue
It won't surprise you to learn that off-the-shelf and bespoke training content both have unique advantages to offer to businesses. That's why, for a truly comprehensive training catalogue, you need a mix of the two.

In-house content is the natural choice when dealing with company policies and processes, as well as to address future goals. Off-the-shelf modules, meanwhile, are an excellent choice if you want your team to improve their soft skills or increase their technical knowledge. Together, they're a perfect match!
Off-the-shelf content: formats to suit any course
To ensure that our selection of e-learning modules is at its best, Rise Up works alongside specialist instructional designers and content creators to provide a unique set of off-the-shelf training materials. This covers a range of themes, languages and learning formats. Let's take a look at some of the top formats in more detail.
Interactive microlearning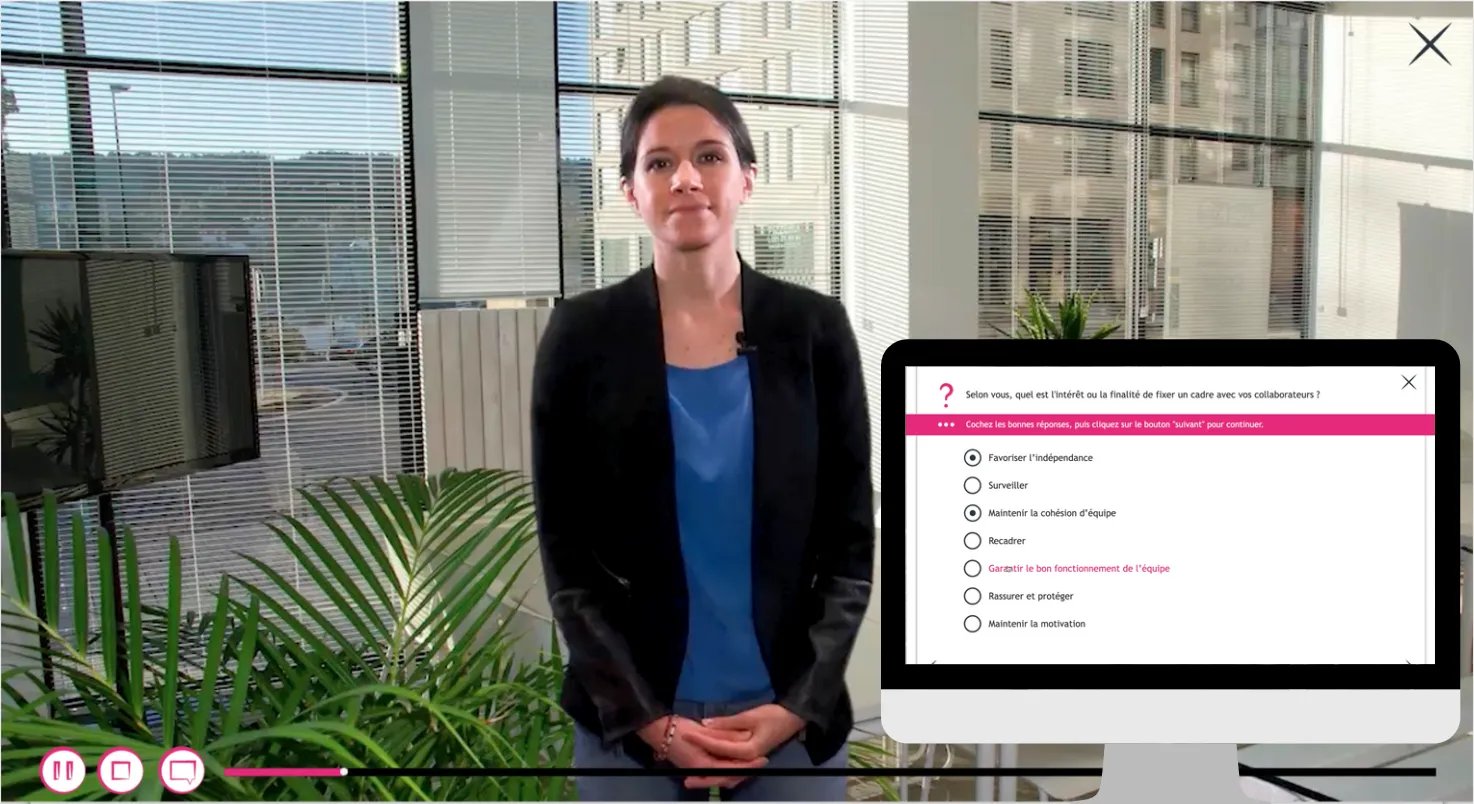 This format consists of a series of short videos on a specific topic. Employees watch through before answering questions to test their knowledge.

Rise Up uses this format as part of its verbal communication course. Each video lasts mere seconds and includes dynamic elements, such as pop-up images and a speaker in the corner of the screen. This is followed up with a quiz, plus extra commentary to provide context for the answers.
Multi-format content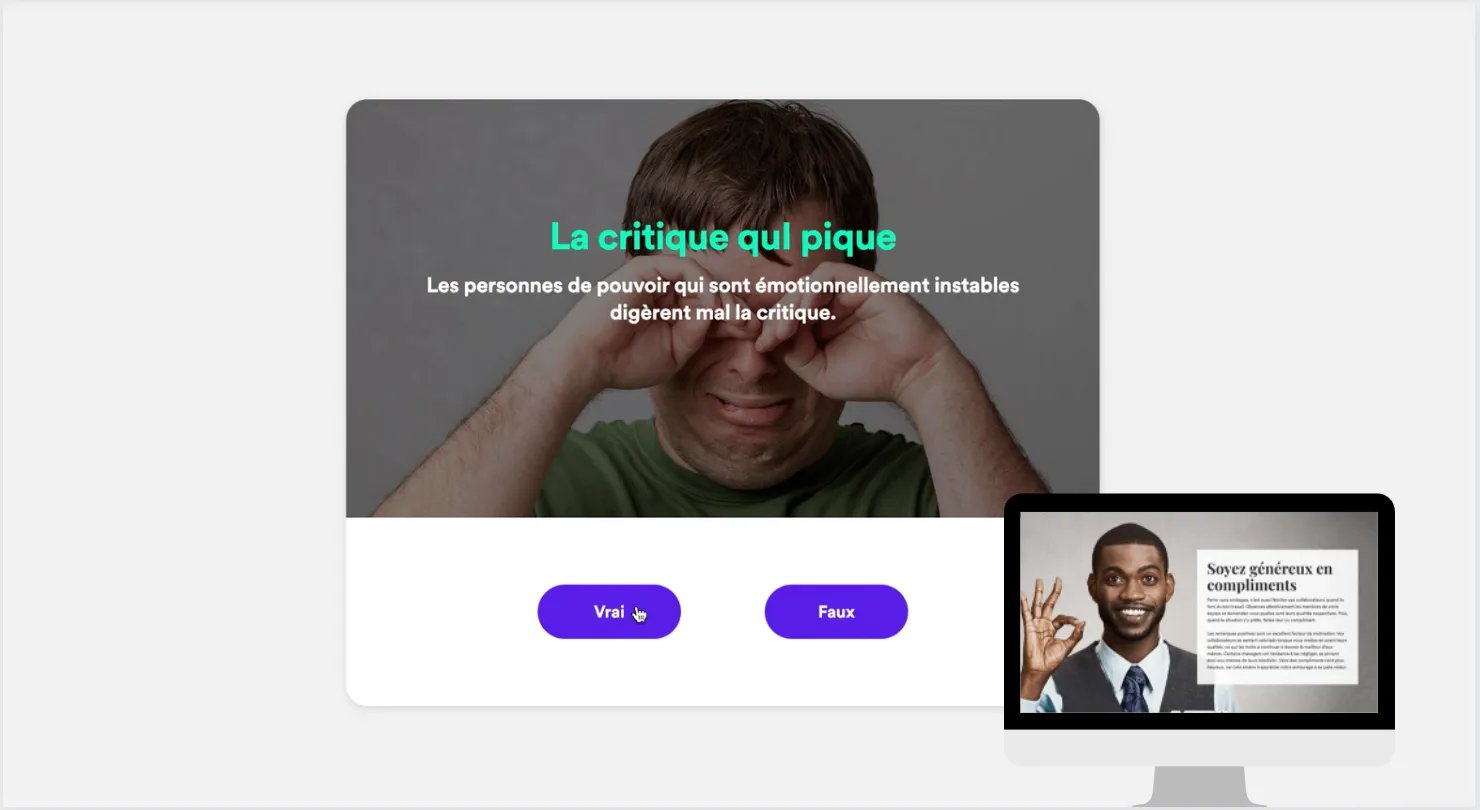 With multi-format content, employees have the freedom to choose how they learn. Whether watching a video, reading a virtual magazine or an infographic, listening to a podcast or taking a quiz, they'll gain the same skills, but in a way that suits their needs and keeps them engaged.

The art of feedback course offered through Rise Up Content follows this model. Learners get to choose the format of each module they take simply by clicking on their preferred option. For example, they can choose magazine format to see a selection of short, illustrated articles.
Serious games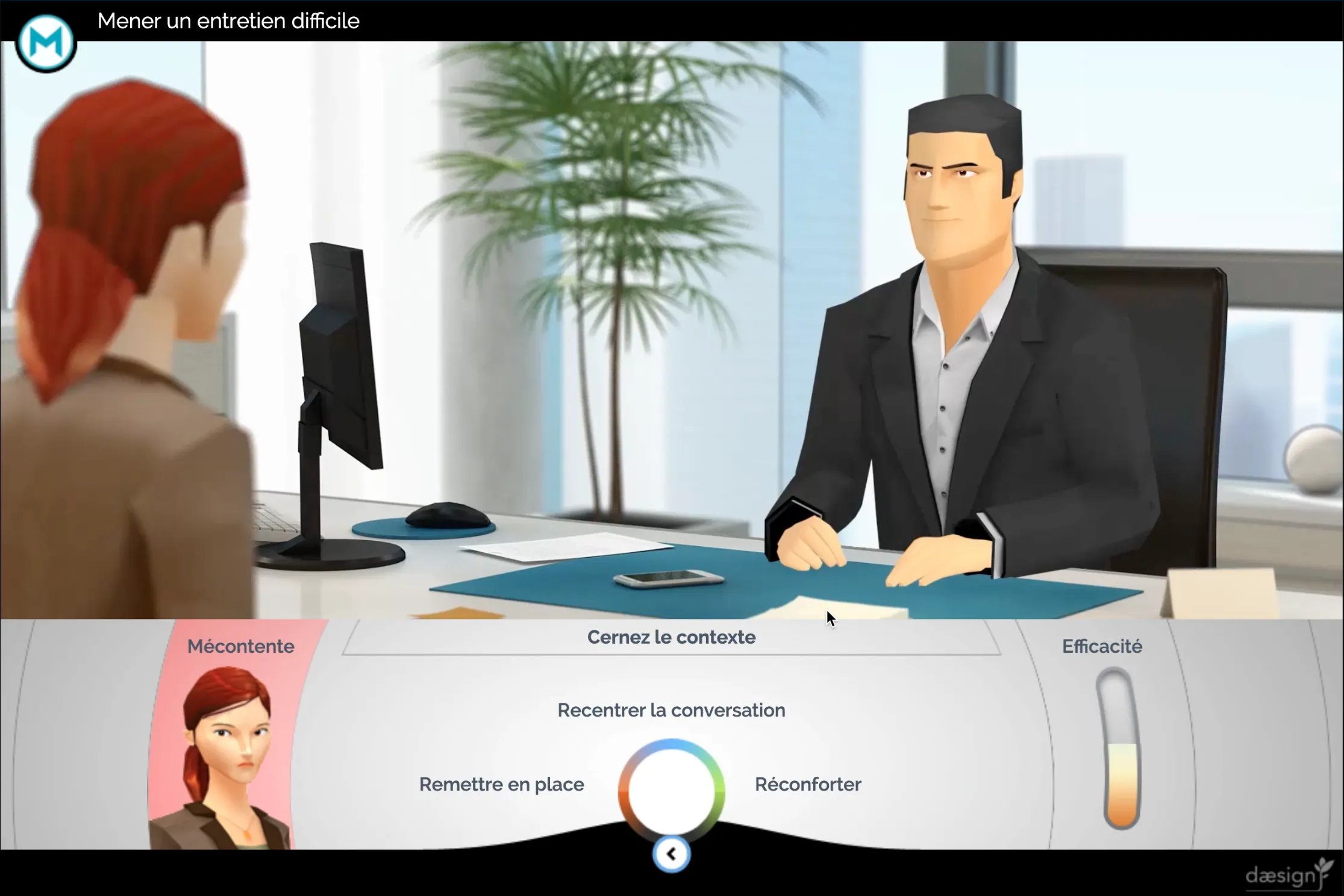 A serious game takes the concept of a video game and instead applies it to real-world scenarios. Employees are put in the shoes of a particular character and make choices based on their knowledge and skills.

This type of format comes into its own when creating courses focused on management training. Rise Up, for example, offers a serious game on the topic of conflict management, where the learner steps into the role of a manager dealing with an angry employee. It's up to them to navigate through the dialogue and steer the conversation in the right direction by choosing responses from a list that appears on screen.
Humorous videos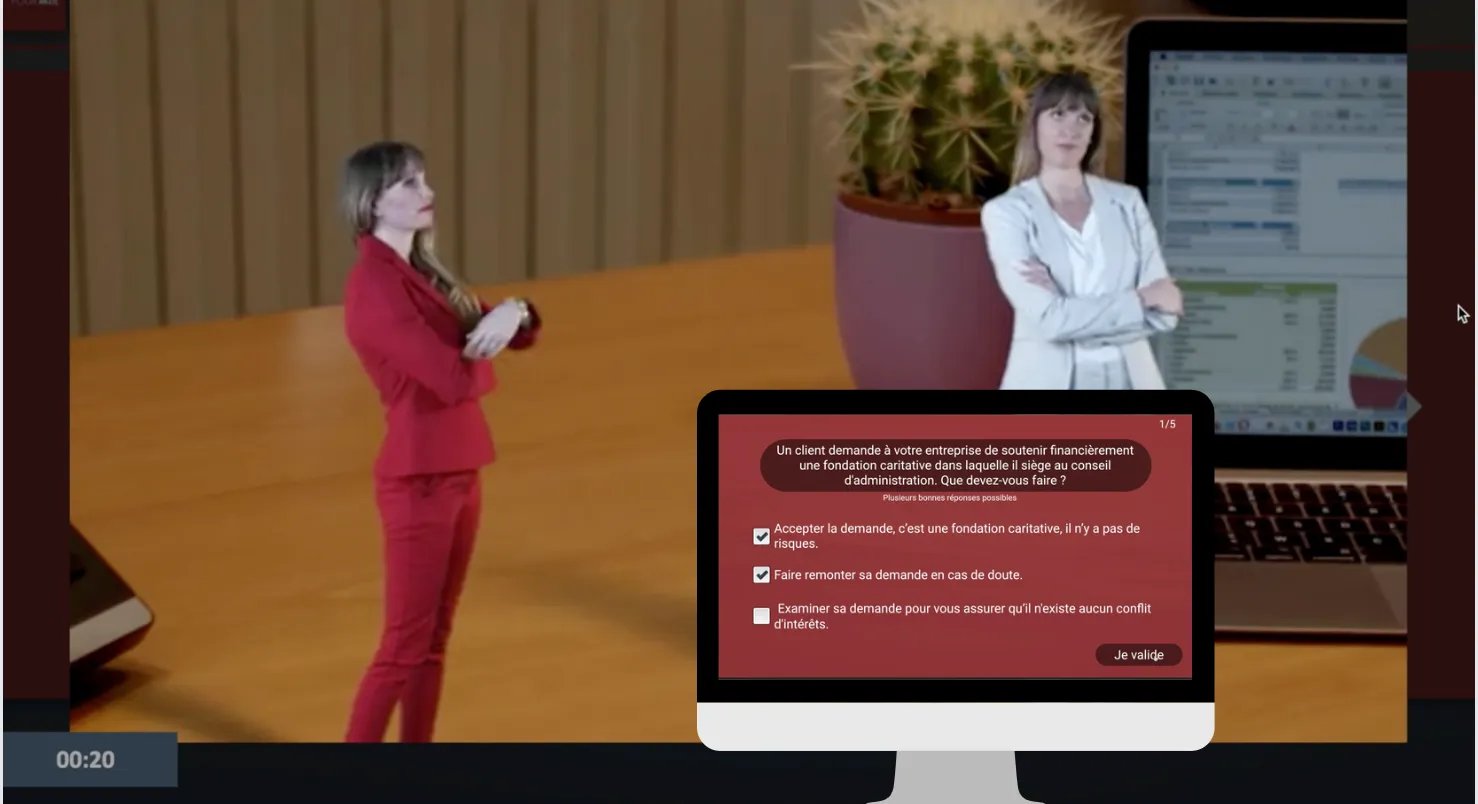 When you're dealing with a dry or difficult topic, humour can help to liven things up. This format consists of scripted videos performed by comic actors, and helps to make training more fun and keep learners motivated. These videos are backed up with worksheets summing up the topics covered, as well as quizzes.

In Rise Up Content, humorous scenarios are used as part of the conflict of interest training course.
Immersive scenarios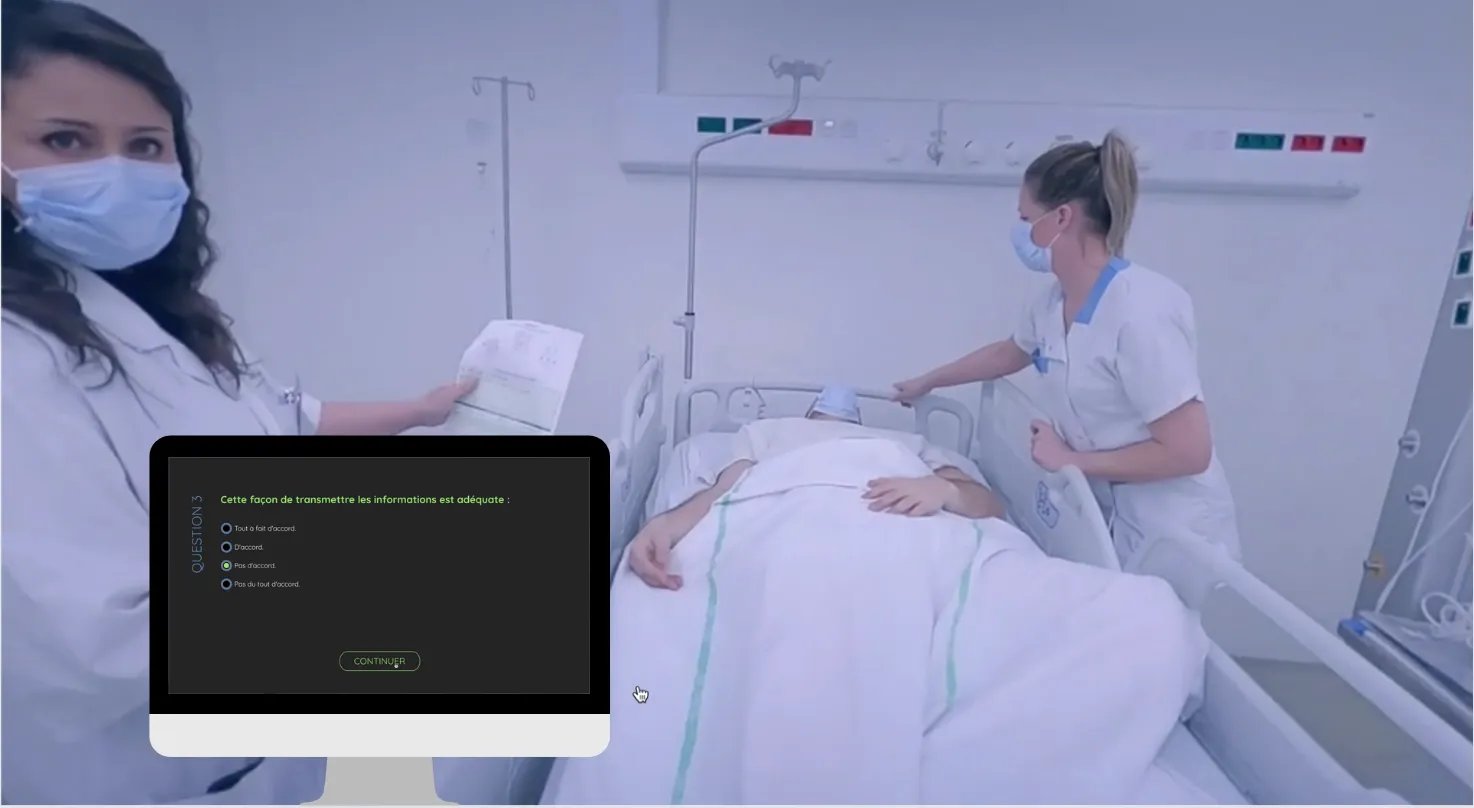 Another video-based format, this format places an emphasis on realism. The goal is to immerse the employee in the story and get them to take action.

Many of Rise Up's training courses aimed towards health professionals use this format. Learners are placed in a hospital scenario, and have to decide what to do at critical junctures of the story.
Tutorials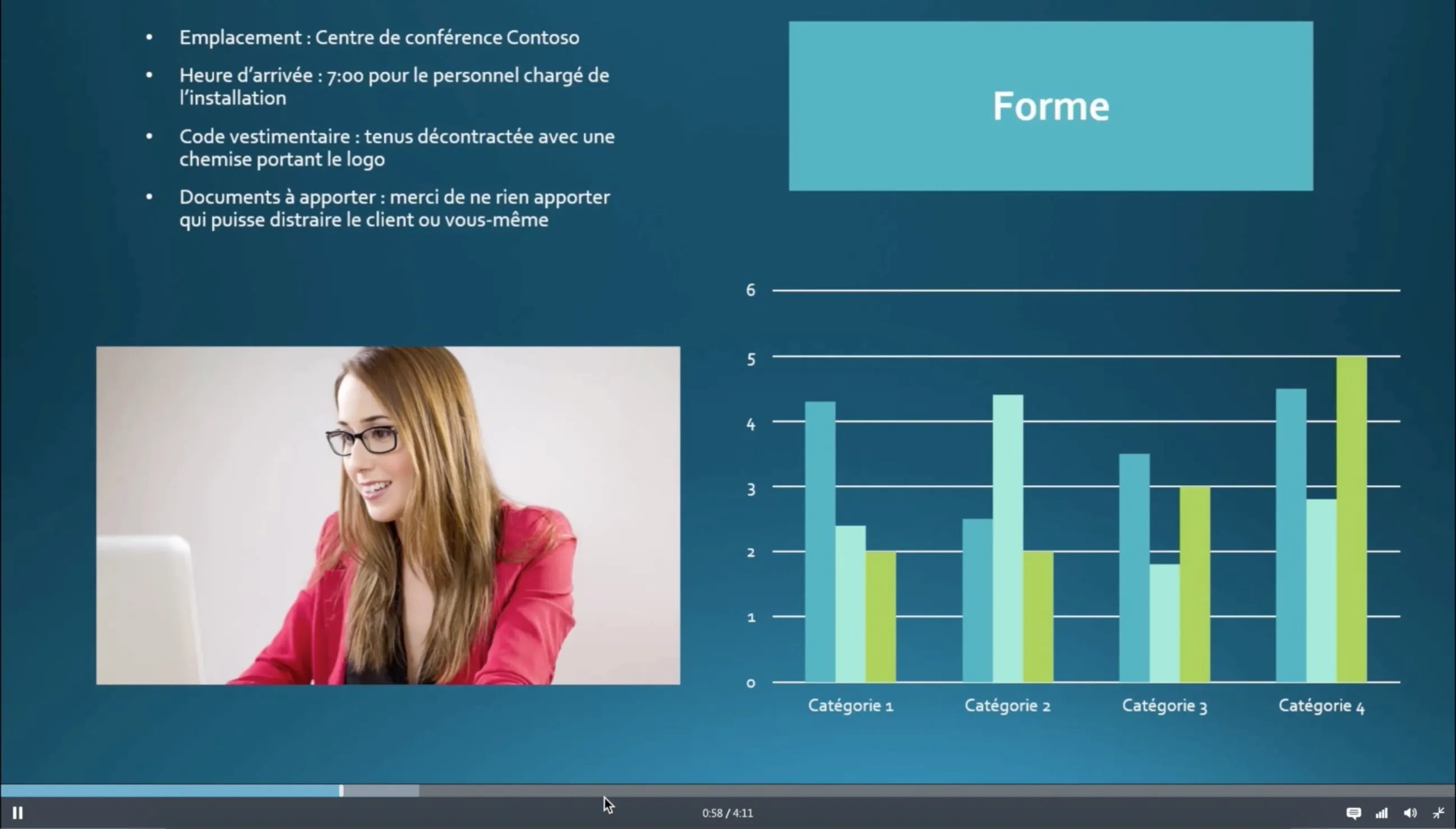 In a tutorial, a trainer captures their screen while providing an audio commentary over the top. For example, they might edit an image using Photoshop or create graphics using Illustrator, all while talking through the process. As you may have guessed, this is an ideal format for learning how to use a new piece of software.

The Rise Up Content catalogue has plenty of tutorials to choose from. As an example, one of our PowerPoint courses shows learners everything they need to know about creating a slideshow, including the various formatting options, as well as adding in animations and sound effects.