8 Minutes of reading
Three ways to improve learner engagement using an LMS
As more companies come to understand the importance of learning and development to business performance, an aspect that can be hard to master is employee engagement. It's all well and good to have a training solution in place, but if your workforce does not effectively interact with the material, they are unlikely to benefit. To make the most of your investment, you must ensure that employees are motivated to successfully participate in any training you provide.
A learning management system (LMS) like Rise Up integrates a range of features to ensure that participants effectively engage with training materials and are truly committed to learning new skills.

In this article we'll cover 3 ways an LMS can help you improve learner engagement. Let's get started!

1. Blended learning on an LMS provides a rich learning experience
When it comes to training your staff, how you deliver the content is just as important as the content itself. In the modern workplace, e-learning offers a flexible and efficient way to teach employees new skills. Being able to access materials and resources on a digital platform is really useful, because it means that learners can work on their skills at a time and place that suits them.
You may assume that making all training digital is therefore the best solution. Not so fast! The way we absorb information is very complex, and so to ensure employee engagement with the training, you should diversify your approach. This is made easy with a learning management system like Rise Up, which incorporates all the benefits of a learning experience platform (LXP).
What's wrong with making training 100% digital?
Digital training (which includes e-learning, virtual classrooms and mobile apps) has many advantages. It's great for introducing learners to new subjects and providing a space where they can complete various exercises to revise the material. In order to successfully acquire a new skill, however, digital training alone is not enough.
A well-rounded, effective training programme should include some kind of social element. This means learners must have a way to interact with trainers and fellow trainees, as well as the material itself. Rise Up is an LMS platform that integrates LXP features to facilitate these kinds of exchanges, including:
Chat rooms where employees can participate in group work.
A virtual whiteboard on which trainees can share thoughts and ideas together.
The integration of platforms like Wooclap and Teams, so that learners and trainers can communicate during training sessions.
An LMS with social learning tools like these creates a collaborative training environment that cannot be replicated in a traditional classroom setting. That being said, you should not abandon face-to-face learning altogether.
Why is face-to-face learning important?
Including some face-to-face learning to supplement your digital training gives a course some much-needed structure. In-person training does not have to be scheduled frequently, but it is useful to plan such gatherings at key stages of a module. These sessions give employees an opportunity to ask questions and allows trainers to gain a clear idea of learner progress. It also enables a level of socialising that is not achievable when meeting remotely.
Rise Up's digital organisation features can be used to enhance in-person lessons. For example, trainers can save time by booking rooms, synchronising calendars and sending invitations via the LMS platform.
With the logistical and administrative elements taken care of digitally, you can use the face-to-face time to focus on delivering training content in an engaging way.
Blended learning
Rise Up is a blended learning platform that combines e-learning, virtual classrooms and face-to-face sessions to guarantee comprehensive training coverage and a positive learning experience. Your employees can enjoy the freedom and flexibility of digital training, with a solid course framework provided by regularly scheduled in-person lessons.
It is an LMS and LXP platform all in one, so you have the best of both worlds at your fingertips!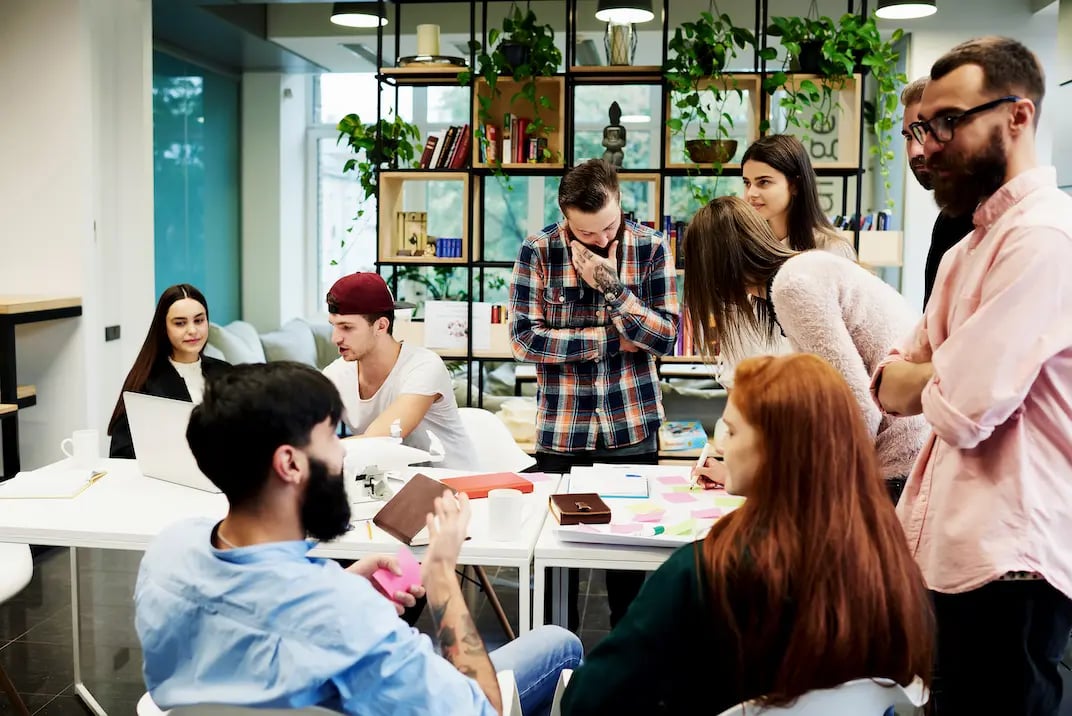 2. Trainers are empowered to create an engaging learning environment
When you invest in an LMS, you are making life a lot easier for the people in charge of conducting your training. Not only that, but you are providing them with the necessary tools to encourage employee participation and facilitate a positive, engaging learning experience.
What exactly does training entail on an LMS? Well, a trainer acts as a kind of guide for employees as they navigate the learning process. It is slightly different to a traditional student-teacher relationship, because the power balance is more equal. The trainer is present to provide help and guidance, rather than to issue commands. They play a vital role in learner progress. Indeed, studies have shown that having a trainer present during training (whether online or in person) increases learner participation and can make the training twice as effective.
Utilising the learning management platform
Rise Up offers a number of ways for learners and trainers to interact. The platform has messaging features for one-to-one instant exchanges, email integration and there is a community hub where trainers and learners can access forums to discuss course material.
With employees able to reach out to someone when they require help, guidance or support, they're more likely to complete their training. Additionally, trainers can also track learner activity on the platform and monitor employee progress. Not only does this encourage learners to commit to their training more seriously, but this information is key to preventing people from falling behind or dropping out of training altogether.
Rise Up even has a platform dedicated solely to trainers. Rise Up Academy provides training and tools to help them learn how to deliver training content that really engages learners.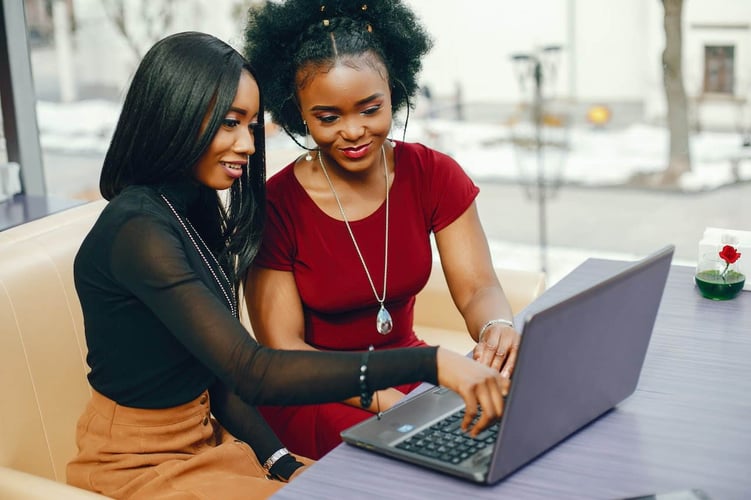 3. Offer a range of learning content to keep the training fresh
Finally, the content itself must be crafted in a way that is engaging to learners. Imagine, for example, if employees were required to sit through a 45-minute training session that was entirely text-based. Chances are that engagement levels would start to drop within the first 10 minutes!
We've already discussed the importance of mixing digital training with face-to-face classes. It is also important to make the content itself as diverse as possible in order to sustain the interest of learners. LMS platforms allow you to craft your own content, and during this process you can consider which formats work best for different types of training.
E-learning content authoring tools
Creating a diverse catalogue of training content for your business might sound a bit overwhelming, but with Rise Up it couldn't be easier. You have numerous options at your disposal when it comes to content authoring tools. Liven up your training content with fun, easy to use features, including:
The ability to make your own videos and animations that can be added to existing training modules.
The option to gamify your content by designing interactive quizzes and fun exercises that allow employees to put their new knowledge to the test.

Goal-based learning

functions, which allow trainers to award badges or certificates when employees achieve certain targets.
These tools are regularly updated and expanded, so there's always a new type of interactive content to try out.
All of your training in one place
With the Rise Up platform, all of your training content is stored in a central hub. This makes everything easily accessible for learners, which in itself is a great way to prevent people from disengaging with their training. The fact that employees don't have to switch between different platforms to find what they need means they are much less likely to give up.
---
Don't forget that having an effective training system in place is hugely beneficial for your employees and your business. Any skills they gain will contribute to your company's overall success.
You now have 3 proven, actionable ways to improve learner engagement using an LMS. With Rise Up, you can design and deliver training in a way that ensures all employees enjoy a fruitful learning experience that keeps them engaged.