4 Minutes of reading
What is interactive learning on a learning management system (LMS)?
Interactive learning is an approach to training where learners are encouraged to actively engage with the trainer, the material and each other.
Unlike traditional training courses, where only the trainer has the floor and the learners take notes, interactive learning puts trainees at the centre of the action. This makes the learning process more fruitful and enjoyable for everyone involved.


Learning management systems can facilitate interactive learning in a number of ways. In this article, we'll cover the benefits of interactive learning for the modern workplace, along with how you can utilise this effective training technique using your LMS of choice.
Who is interactive learning for?
Interactive learning is incredibly versatile. It can be useful for schools and universities, as well as companies and training organisations.

What sets interactive learning apart from other training methods is the amount of participation that takes place. This may be in the form of questions posed by the trainer and learners, or the different perspectives put forward by learners as they connect to the course material. Indeed, learners play an integral role in the interactive learning process.
The fact that interactive learning really stimulates learner engagement means it is beneficial across the spheres of education, higher education and vocational training.
How interactive learning meets the challenges of today
Interactive training methods in the workplace engage learners and help companies stay ahead of their competitors by preparing employees for the digital age. Learner engagement boosts motivation and improves communication and development for employees at all levels.
Interactive activities involving group discussions and peer reviews have a higher retention rate, improve working relationships and thus boost team morale.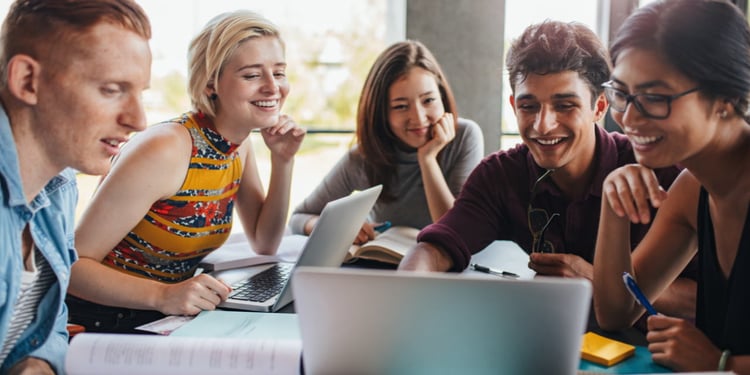 LMSs and interactive learning
Learning Management Systems (LMSs) allow you to create and manage your own interactive learning modules.
Rise Up's LMS platform specialises in blended learning giving you the power to conduct training via face-to-face sessions, virtual classrooms and e-learning. In other words, it provides you with a variety of interactive learning options.
The facilitator of a training session, whether in a virtual meeting or real training room, can create an interactive learning environment in a number of ways. They might, for example, pose questions, encourage opinion sharing or organise debates.
Discover how to choose the right LMS platform!
Interactive learning in the virtual classroom
We've established that teamwork plays an important role in many interactive lessons. The Rise Up platform allows such group activities to be recreated in virtual classrooms. Once formed, teams can split off into smaller virtual meeting spaces and reconvene in the larger group later to present their work.
As well as recreating the conditions of an in-person training session, Rise Up's virtual classroom has features that go beyond what is possible in a face-to-face class. You can, for example, create private chats with one or more people during the lesson.
Rise Up also boasts useful tools, including an interactive whiteboard. This feature enables all learners to express themselves in the same space simultaneously. Such a feat would be impossible to achieve in a room of 30 employees! Not only does this save time, but it ensures that even the quietest people get to participate.
The virtual classroom, despite what one may initially assume, does therefore facilitate interactive learning. This level of engagement is even more necessary when participants are physically distanced from one another. Using these methods and digital tools, the learner is encouraged to get involved in the course and quickly understands the usefulness of their training, making it all the more effective.
Interactive learning and e-learning
Rise Up offers a complete blended learning system. As well as face-to-face and virtual classroom training sessions, it also includes online training (or e-learning).
With e-learning, the interactive nature of the training is slightly different. The Rise Up platform includes a community space, where learners can communicate with the rest of the training community via group forums or direct messages. This process is called social learning.
Learners can collaborate by forming groups from the same course, company, department or around a particular theme. It's easy for trainees to interact with each other, even if they are not physically in the same place.
This type of collaborative learning is essential in the modern workplace. No matter where your employees are in the world, as long as they have access to the Rise Up platform, they can engage with their trainers, with other team members, and the training material.
Interactive training content
With Rise Up, you can make the training material itself interactive by creating and importing content in multiple formats. For example, the platform allows you to customise course videos with interactive elements like polls and live comments.

In addition, it is possible to create interactive quizzes, gamify your content and implement a rewards system. The latter is a particularly effective way to motivate learners and ignite their desire to learn. Simply apply the goal-based learning feature when creating your courses, and trainees will receive reward badges when they reach certain milestones.
Interactive learning on a learning management system
In short, interactive learning allows you to really engage your learners, resulting in an effective and enjoyable training experience. Using a blended learning LMS platform like Rise Up, you can apply this technique to face-to-face training, distance learning via virtual classrooms and e-learning courses.