11 Minutes of reading
Learning in the flow of work with the Rise Up app for Microsoft Teams
Developing a learning culture, providing accessible training for employees and improving learner engagement are just some of the challenges companies face when it comes to upskilling their workforce.
Given that the world of work is undergoing a rapid transformation, upskilling is essential to ensure that employees remain competitive and adaptable. Yet, faced with such challenges, organisations often don't know where to start.
Fortunately, Rise Up has developed a new application for Microsoft Teams! The app enables employees to access training at any point during their working day, otherwise known as learning in the flow of work. With this in mind, we'll explain how this new way of learning works and give an overview of the app's features.

What is learning in the flow of work
Learning in the flow of work (LIFOW) is essentially learning as you work without having to stop what you're doing or rejig any of the tasks you've planned out for the day.

This new form of training is designed to enable employees to fill knowledge or skills gaps as quickly as possible. In other words, if they get stuck, employees can locate the exact information they need and solve their problem. Learning in the flow of work also means doing a bit of training whenever a gap appears in your schedule. You can learn from wherever you are, whether you're working from home, at the office or travelling between meetings.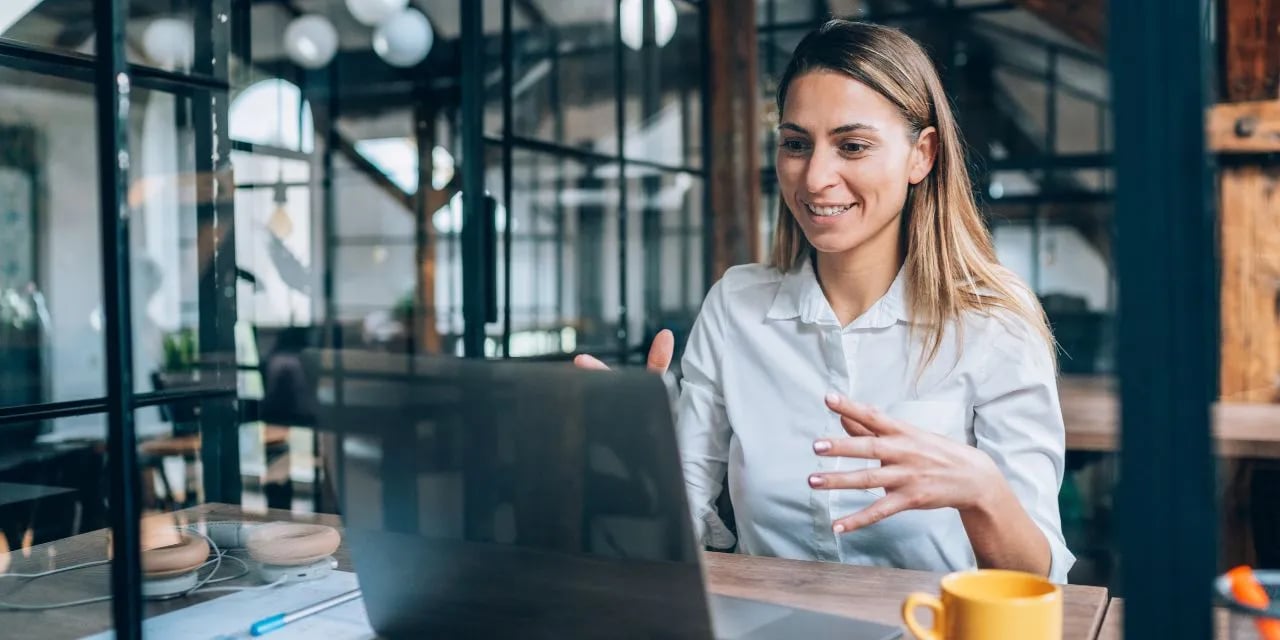 With learning in the flow of work, employees are able to regularly pick up snippets of knowledge here and there while choosing when they want to learn and what skill they want to work on. Much like micro-learning, learning in the flow of work therefore involves ultra-short training sequences which integrate seamlessly into an employee's day to day workflow. For this reason, the content is meaningful, digestible and easily accessible.

This might involve watching a short training video of a few minutes or less, consulting an infographic, listening to a podcast and/or liaising with colleagues who have the information you need, all via your computer or smartphone.

It's a far cry from sitting in a room watching a slide show! With training integrated into employees' day-to-day schedule, they can choose exactly what they want to learn based on the time they have available.
The evolution of corporate training
To put learning in the flow of work in context, it's worth taking a look back at how corporate training has evolved over the past few decades.
1980s – the invention of the PC. In the early days, training content could only be run on a single PC, which made it difficult to track learners' progress. However, with the emergence of PC networking, a technology known as SCORM was eventually developed, which enabled e-learning content to be stored and monitored.
1990s – the birth of e-learning and LMS platforms. With the emergence of web browsers, designers started to build learning content in HTML and Flash. While most courses were often quite lengthy and offered a linear user experience, many companies saw the potential for e-learning and began developing their own portals.

1998 – Google is born. Why spend hours trawling through a bulky e-learning catalogue when you could just search for exactly what you wanted? In hindsight, Google should have paved the way for a radical overhaul of the way we learn, but back then, many training providers – side-tracked by the economic upturn and race to pin down the best talent – decided to focus on aligning learning to corporate talent programmes instead.

2000s – the era of talent management. As many companies continued to focus on building integrated talent management suites, a technological revolution was under way. YouTube, Twitter and the iPhone were all launched within three years of one another (in 2005, 2006, and 2007 respectively), changing the way we interacted with content.

Early 2010s – the rise of video and continuous learning. LMS platforms began to be repositioned as experience platforms (LXPs), and a cohort of innovative vendors arrived on the scene.

Late 2010s – the emergence of digital and micro-learning. While the term 'micro-learning' was coined much earlier in the decade, it only really took off in the late 2010s thanks to the rise in digital learning capabilities. With micro-learning, individuals could access useful, accurate and specific short-form content, from anywhere and at any time.

Now – learning in the flow of work and next-generation LMS. We are now seeing a shift towards adaptive learning tools, which suggest content based on user behaviour and preferences, and learning in the flow of work, which is aimed at providing learners with exactly the information they need on demand to help them to meet an immediate need.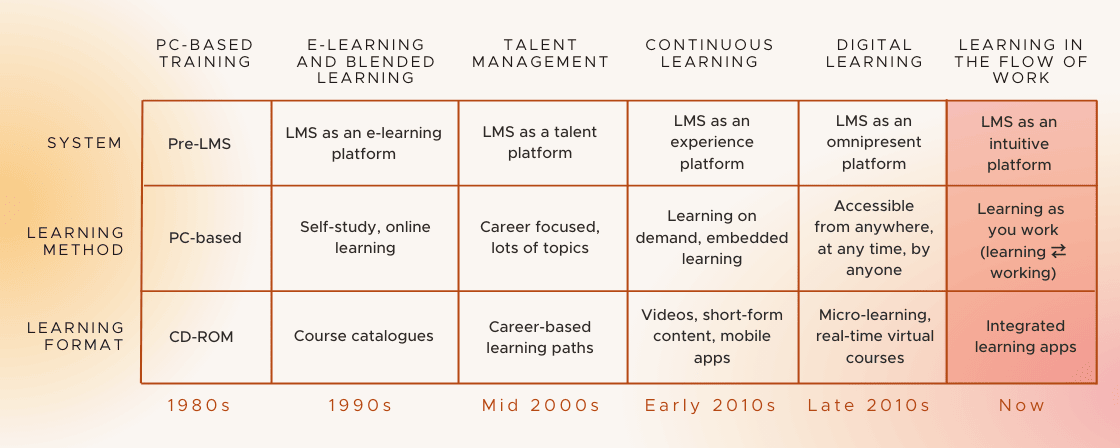 Content adapted from research by Josh Bersin.
Learning in the flow of work: a short history
In 2018, industry expert Josh Bersin wrote a seminal article in which he explained how learning in the flow of work was set to represent a paradigm shift for corporate training.

In it, he made an important distinction between the consumer content design model and the corporate content design model. While consumer content platforms like Netflix aim to encourage their subscribers to consume as much content as possible, the exact opposite is true of corporate content providers – but why?

Learning in the flow of work and corporate training models
According to research conducted by LinkedIn Learning, the number one learning and development challenge for companies is the lack of time available for training. Given that the average employee only has 24 minutes a week to spare for formal learning, it's hardly surprising that companies don't want their employees to become addicted to learning!

In this sense, an ideal corporate content model is one that provides employees with the exact information they need to become better at their jobs as quickly and effectively as possible (rather than tons of irrelevant content). As Bersin puts it, "this approach is what people want", and LIFOW is an ideal solution because it provides learners with digestible and relevant tips, recommendations and suggestions.
The challenges of learning in the flow of work
The importance of digitalisation
Before rolling out learning in the flow of work across an organisation, an important pre-requisite is digitalising workstreams and training courses.

In other words, an organisation's learning culture should be grounded in the use of digital tools and new remote teaching methods, such as mobile learning (learning on the go from your mobile or tablet) and social learning (peer-to-peer learning). Learning in the flow of work also goes hand in hand with adaptive learning, which is a remote and personalised form of learning.
Some key considerations
Provided that an organisation has an established digitalised learning culture, there are a few things to consider when adopting learning in the flow of work.

Have an easy-to-use corporate knowledge system
To ensure that employees can find the right content, it needs to be correctly tagged and kept up to date.

Enable content to be shared internally
Ideally, you want to ensure that the learning points acquired in one area of the business can be shared more widely across the organisation.

Make use of APIs
Having integrated technologies can help to connect learners to relevant content, offering a highly rich training experience.

Integrate a chat function
Adding a conversational interface to your workflow software is a great way to combine learning and work, enabling learners to view and share content.

Have a channel dedicated to learning
With a dedicated online learning space, learners will feel encouraged to post and share content, which will help to embed a learning culture across the organisation.
The benefits of learning in the flow of work
Organisations have an awful lot to gain by adopting learning in the flow of work.
A seamless and flexible solution
Learning in the flow of work integrates seamlessly into day-to-day work schedules and can be adapted to each organisation's training needs. What's more, it responds to many of the challenges typically associated with workforce training – including a lack of time, different shift times and fluctuating workloads – while enabling employees to acquire the knowledge they need instantaneously (e.g., for an urgent task).
Active engagement in learning
What's more, learning in the flow of work increases learner engagement. Because it responds to a specific and immediate need, this kind of training is great at engaging and motivating employees. Moreover, employees get to choose what they want to learn and when, giving them complete autonomy. This means that learners are more likely to get exactly what they need out of the training.
Productivity gains
As a result, employees tend to see their productivity increase, given that the 'dead time' that arises during their work day can be put to good use. Users also benefit from personalised learning which they can apply instantly or very soon after completing the training.
Empowering and enabling employees
Lastly, learning in the flow of work gives employees greater accountability, enabling them to upskill in the areas that they feel are most beneficial. Gone are the days of the teacher-student hierarchy: employees become valued and equal partners in the learning process and not only learn new skills but share their knowledge with others.
See also : Case Study - The Rise Up integration into the Microsoft Teams work environment, allowed AKKA employees to use microlearning more often.
With Rise Up LMS for Microsoft Teams, training is part of the work day

Convinced of the benefits that this learning strategy can bring, Rise Up LMS has developed a Microsoft Teams integration tool, a learning app specifically designed to address the challenges of learning in the flow of work.

Employees can now complete training modules without having to exit the Teams app! As long as they are logged in to Teams, they can access their training courses and view tailored content via the app. Learners can also access progress tests, all from the Teams platform.

And the experience doesn't stop there...

With the Rise Up LMS for Microsoft Teams, employees benefit from a personalised learning solution thanks to Lia, a virtual training coach, who is on hand to provide training-related support. Powered by artificial intelligence technology, Lia adapts to the specific needs of each employee. The online coach can provide meaningful responses to user questions, recommend content and send notifications and reminders directly within Teams.

As you can see, learners benefit from true autonomy. They get to have a say in the pace and purpose of their training and can locate the exact resources that they need. Resources are designed to perfectly adapt to the app, and Rise Up offers a large number of micro-learning modules which are both engaging and informative.

Moreover, the learning app in Microsoft Teams is highly collaborative, meaning that users can undertake training while staying connected to their peers. They can even interact with their colleagues and undertake training without having to miss a calendar notification.


Lastly, to ensure that users can access the interface instantaneously and enjoy an enhanced navigation experience, the Rise Up LMS for Microsoft Teams incorporates a single sign-on user matching system. This means that, once signed in to Teams, employees don't have to sign in a second time to access the Rise Up LMS.

Simply put, Rise Up and Microsoft Teams are offering a new way of learning, enabling employees to benefit from professional development and organisations to achieve enhanced competitiveness.