9 Minutes of reading
How can we create interactive training in the workplace?
Training managers know that capturing learners' attention and keeping them engaged are the keys to successful training. Interactive training also helps to keep the individual in the workflow, i.e., to keep their concentration at a high level. The flow represents the optimal balance between the simplicity and complexity of the training: content aligned with the learner's abilities and needs combined with subtle interactivity optimizes their involvement.
Interactive training for employee engagement
Interactive training: definition
Interactive training is characterized by active learning: throughout the course, the learner participates, implements, communicates and creates... They act and react since interactive training involves frequent exchanges. This may involve human and synchronous interaction (e.g., the trainer asks a question and the learners answer), but also interaction with specific digital media set up as part of distance learning (e.g., the employee answers an online quiz at the end of a module). This is similar to interactive e-learning, but it goes way beyond just a few clicks…
Well-designed interactions lead to a sense of momentum and rhythm that holds the learners' attention and arouses their curiosity, increasing their desire to progress and gain more and more knowledge.
New technologies are constantly evolving and offer ever-greater possibilities for interactivity. Blended learning is a prime example of this, as it uses multiple interactions. They are involved in face-to-face sessions as well as in virtual classes and in the follow-up of e-learning modules.

What does successful interactive training look like?
Evaluating the effectiveness of interactive training is always challenging, whether it is part of a blended learning program or any other type of course. The most relevant questions are:
Do employees find their training exciting and valuable?

Are they satisfied with the teaching methods?

Have they acquired new knowledge or skill?
Learner engagement and information retention at the heart of interactive training
Training managers should focus on the learners, putting them at the centre of any interactive training, as they are the ones who will be using it in order to benefit from it.
Creating an interactive course is an involved task. Relevant and diversified interactions must be set up and placed coherently in the learner's path. The aim is to avoid routine and to provide real added value.
Examples of interactive e-learning elements include:
Gaming: this introduces games and challenges into training.

Quizzes, which can be taken both during and at the end of training.

Simulations, which require participants to act as if they were in a real-life situation.

Hot and cold assessments

Videos

Feedback

Rewards (in badge or point form) to be won throughout

Countdowns to engage the learner and motivate them to finish their training

Immersion, where they are immersed in a story and curious to know how it ends

Organizing competitions

Creating role-play games

Board games.
For effective gaming, it's essential to include the following:
Fun: without fun, we lose interest in the game!
Education: the idea is to learn while having fun. We need quality content and teaching methods integrated into the game.
Performance: the learners must challenge themselves and achieve specific goals.
Interactivity is also achieved through deductive and inductive approaches.
The first is the most traditional way of learning: we start with theory and move on to practice.
The second is the opposite: it first places learners in a specific situation, and they draw lessons from it; in a second phase, the trainer complements these observations, enriches them and takes concepts from it and expands on the knowledge learned.
This is the perfect way to enrich all training courses, regardless of the teaching methods used: digital learning, social learning, adaptive learning, etc:
MCQ
Quizzes
Hot and cold assessments
Simulations
Videos
Serious games
Feedback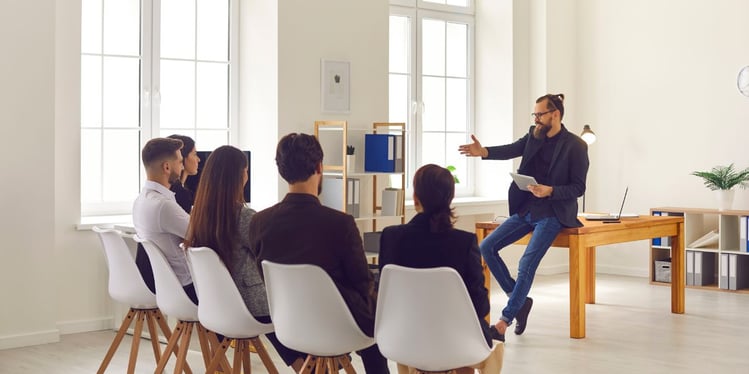 Focus on collaborative methods and knowledge sharing
Interactive training must consider two dimensions: exchanges with the trainer and between peers (i.e., among learners). Through chats, forums and other discussion groups such as Reddit or Quora, sharing knowledge and expertise, which everyone can add to or question, results in intellectual enrichment for all.
This trend echoes social learning, theorized by the Canadian psychologist Albert Bandura in the 1960s. Humans are social beings and much of their knowledge and skills come from observing others. In other words, skills develop through contact with others.
Moreover, humans have "mirror neurons", which are the basis of learning by imitation. A team of Italian researchers demonstrated this in the 1990s. These neurons are activated when we act but also when we see someone else doing it. Therefore, this type of neuron plays a vital role in communication, understanding other people and social relations.
An LMS such as Rise Up is excellent for the development of peer-to-peer learning, including the creation of groups, the animation of communities, the possibility of sharing files, etc.
Rewards (in badge or point form) to be won throughout the game.
Countdowns to engage the learner and motivate them to finish their training.
Immersion, where they are immersed in a story and curious to know how it ends.
Other examples include organizing competitions and creating role-playing games and board games.
For effective gaming, the following 3 elements should be kept in mind:
Fun: Without fun, we lose interest in the game!
Education: The idea is to learn while having fun. We need quality content and teaching methods integrated into the game.


Mobile learning is also particularly suitable for learning in the flow of work. Employees have quick and easy access to the content they need from their smartphones without leaving their workspace. In this respect, Rise Up offers the integration of its LMS into Microsoft Teams, a great way to learn while continuing to work.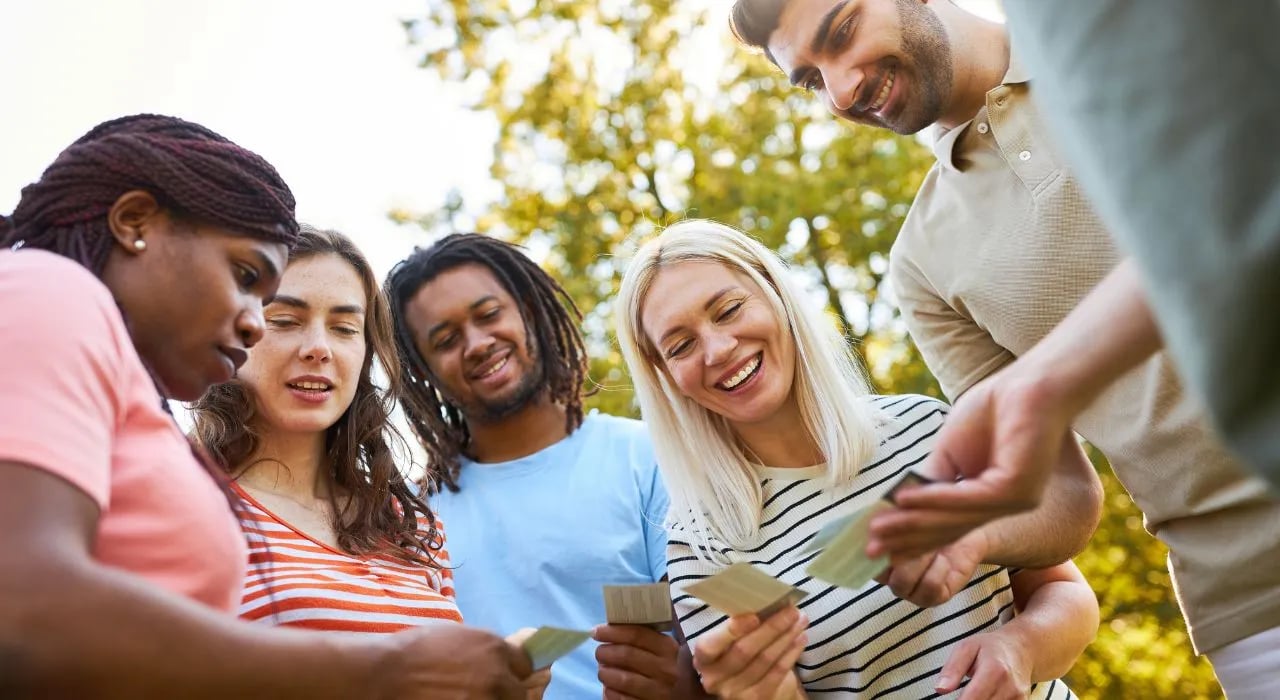 Using a fun tool for "serious" learning
Serious games
Serious games refer to a way of learning that combines a serious objective with a fun – and even funny – format. The promise is seductive: to offer an entertaining and stimulating training experience to employees while guaranteeing a real boost in skills.
Serious games and gamification: two concepts not to be confused
Although the serious game represents one of the possible modalities of gamification in training, the two terms are not the same. The serious game is a real tool for acquiring knowledge and know-how and can be used in many ways. It can be found in the form of video games, practical exercises and simulations, for example.

Taking advantage of technical advances – planning for the future
Video games and learning: a winning duo! Today, augmented reality and virtual reality (particularly via AR and VR headsets) lead to brand-new training experiences. These experiences speak to a significant portion of the UK population, as one in six adults surveyed by Ofcom in 2021 reported playing video games, regardless of the device.
More generally, the constant technological progress leads to a diversification of learning tools and an update of the teaching methods used.
Creating interactive training courses is indispensable today to keep learners committed and to ensure the success of the various systems put in place (blended learning, digital learning, etc.). Rise Up helps you to integrate the necessary interactions at every stage of your training courses.
Or speak to our team experts on how you can optimize your current learning and development program.