5 Minutes of reading
Unveiling Workplace Transformation: 3 Key Themes from the People Power Summit in London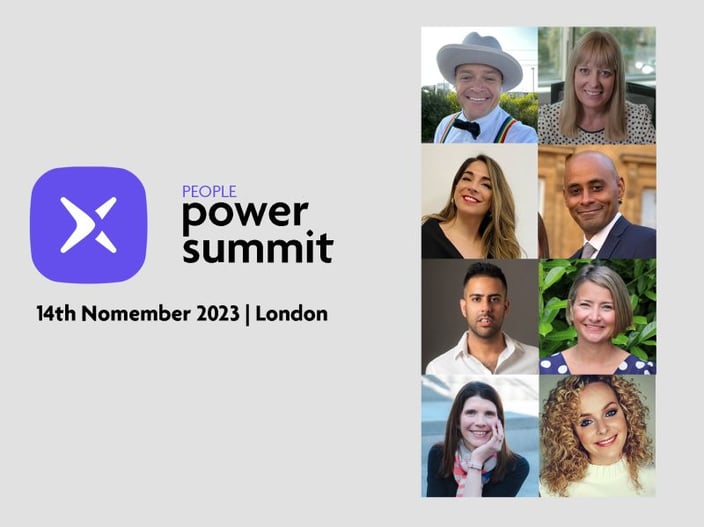 The
2023 People Power Summit
in London showcased innovative strategies and insights, offering a glimpse into the evolving landscape of employee experience. This recap will distill the wealth of insights from the

expert HR speakers

into three key themes to provide you with some actionable takeaways.
Humanizing Employee Experience:
The summit spotlighted the significance of humanizing the employee experience. Dina Alvarez from Leroy Merlin emphasized building emotional bonds with employees and customers alike. Leroy Merlin's inventive employee app, akin to a dating app, fosters engagement through podcasts and personalized interactions, including employee first dates, a great way to meet other workers outside of your team/day-to-day activities. This led to an eNPS score of 56, growing by 11 points since January. The retailer distilled the employee experience into 4 well-being pillars—Physical, Financial, Emotional, and Social.
Dina also stressed the importance of Learning and Development within these 4 concepts, stating: "more training per employee, led to less absenteeism, less turnover, and better overall NPS." These results tie nicely with our study on employee retention, which you can explore here. She advised the audience to ensure they link their EX to CX for effective board buy-in and to have clear data/benchmarking before starting their initiatives to be able to track and prove value.

Hyper-Personalization for Engagement
Kelly Pretty, Head Wellbeing Consultant, provided key insights from Virgin Pulse underscoring the power of hyper-personalization in well-being strategies. A departure from generic approaches, the session stressed the need for deep personalization considering diverse factors like location, ethnicity, and neurodiversity. Kelly also spoke to the "whole person" concept of wellbeing rather than the tokenistic meditation courses organizations supply. This infographic outlines the breadth of well-being and how tailored the programs can become. Note how "Learning new things" plays a key role, something we discuss in our blog here.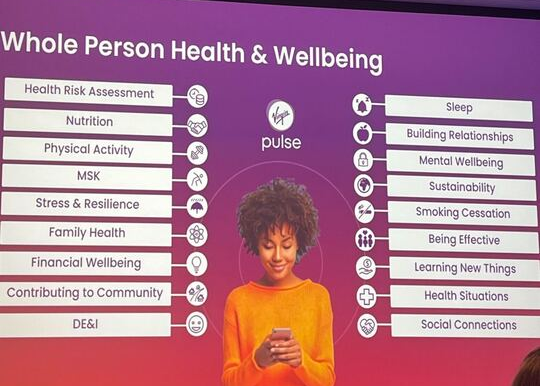 Personalization to this degree led to a remarkable 45% daily active users on their wellbeing app, outperforming competitors by a staggering 25%.
Unleashing the power of collaboration via job sharing
Tiger de Souza, Chief People Officer at Samaritans, brought a refreshing perspective to the event by highlighting job sharing as a solution to break traditional molds. This approach challenges the conventional notion of a single individual holding a role, providing an avenue for collaboration and diversity. Souza emphasized the importance of compatibility in job sharing. Like a first date, it involves a chemistry test to ensure a harmonious working relationship. This matchmaking approach ensures that individuals sharing a role not only complement each other's skills but also share a common vision and work ethic. To make job sharing successful, Souza outlined practical considerations. This includes budgeting for roles differently, setting ambitious goals, dual training with learning experiences to develop the pair, and reviewing application processes to accommodate shared roles. Normalizing contracting for everyone and internal process adjustments are also crucial for the seamless integration of job sharing.
Throughout all the sessions, the need to make work a place of joy was a central focus that these 3 trends support. For example, the CEO of the National Council for Voluntary Organizations emphasized kindness as a superpower at work. Clear communication, honesty, and authentic leadership were identified as crucial elements in building trust. The idea that kindness isn't just a nicety but a powerful force that contributes to a positive workplace culture resonated across sessions.
Learning professionals should leverage these insights for their own learning strategies to create workplaces that not only attract top talent but also nurture a

thriving and engaged workforce.