8 Minutes of reading
How blended learning can help training providers engage their learners for better results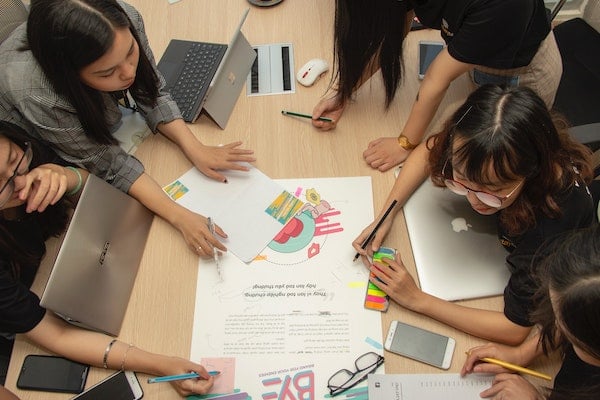 Learner disengagement is one of the biggest challenges facing training organizations. Sometimes it's obvious in dropout rates, but sometimes it's hidden in poor outcomes. The learners attended, but they failed to learn.
Engagement was a recurring theme at the AELP Spring Conference last week, with so many speakers addressing different aspects of the challenge, including:
Why learners disengage

What providers can do to make their training more relevant

How to make their material work harder for all learners.

Here are our key takeaways from the event.
The disengagement challenge for trainers and learners
One startling fact that came from Lucy Dunleavy, a former Head of Learning and Skills in His Majesty's Prison and Probation Service, was that prisoners preferred the cell to the education room!

The prison case was often the result of previous stigma and trauma with teaching authority, but also highlights a broader issue: training providers must match the needs, styles, and situations of learners, and they need to fit clearly within a broader context of beneficial outcomes.

Only then can learners stay up-to-skill every day.

There are many reasons for learner disengagement.

Outdated or unnecessary requirements
Real-world skills change with time, but many courses or certifications continue to teach or require outmoded skills. For example, the hairdresser is required to complete a perming course as part of their overall qualification, despite them not having a request in five years of practice.

Teaching outdated skills is a waste of time and money, of course, but the effect on engagement and even course completion can be even more critical.

Train your trainers
During discussions as the conference, a trainer admitted to having worked for a training provider for 17 years and had never received any training themselves!

This begs the question, as a learning provider, how often do you take the time to train your own trainers? And not just in the subject matter they teach, but in current techniques of teaching and learning? Have you had them follow the learning experience and systems the learners use?

Have happy trainers!
Engage and teach your trainers. Give them the skills and motivation to train others. Help them pass on the feeling of being invested in and being given the skills to excel at their jobs.

Great training is the key to enabling continual, independent innovation.
Online but off target
When the pandemic arrived, instructor-led training providers scrambled to move their training (and revenue streams) online. Often it met the immediate need, but frequently the content simply wasn't (or was poorly) adapted to the online approach and audience.

Post-pandemic, it's clear that online learning models have a huge amount to offer and will remain a critical part of the teaching toolkit.

Making it work well online is essential. Online teaching is not as simple as posting your PowerPoint deck. A poor online experience is a big driver of learner disengagement.

Our client Leadership & Co was an offline instructor-led provider before the lockdown enforcement; however, in 2023, they are looking to continue their blend of offline and online virtual sessions, as this offers flexibility and ease for learners. They recognize the benefit of choice for their audience but are now focused on optimizing the virtual offering to be a stand-alone experience.

Leadership & Co is working closely with our Global Customer Success Director, Tom Higgins, on how they can make their online sessions as personalized and engaging as their original in-person lessons.

If you'd like to book your own workshop with Tom to audit your current program, click here.


Underinvestment in remote and online learning
A failure to train the trainer and poor adaption of classroom to online learning compound a longstanding (but outdated) issue. For too long, remote learning has been viewed as a poor relation to in-person classes.

As a result, in-class materials are poorly rendered into digital versions by trainers who are not digital specialists.

The result is poor focus and uncertain effectiveness for the learner, leading, of course, to disengagement.

The blended learning engagement solution
How can training providers build for the learning engagement that ensures the outcomes clients desire? Blended learning solutions. Firstly…
Realize the classroom isn't for everyone
Leverage learning management systems built to improve the training experience and the adaptions of the pandemic to officially modify courses to suit everyone's optimal learning style.

Create content that works for the neurodiverse that can accommodate slow and fast learners, visual or auditory, and those with different working and home environments.

The power of video – bring your content to life
Good video builds engagement. Learners can pause and pick up later. They can rewind and rewatch. They can adapt your output to suit their personal circumstances and learning needs.

Good video is immersive, too, with learners forgetting that the main focus is learning due to their level of enjoyment. Aligning to the domination of video content in their personal lives, with reels on social media, to online how-to tutorials, to TV/Film series.

Make your content accessible to everyone
Consider learners with limited time or limited resources. Make it work for home learners where the family device is in high demand from others. Do your videos have subtitles? Is your material written in clear language for those who don't speak English as a first language?

Consider demographics, social factors, environmental factors (such as transport links), and the unconscious barriers created by BAME, gender, or other issues.

Your clients are increasingly aware of the need to recruit from as diverse a pool of talent as possible. A failure to recognize and address diversity factors can lead to levels of disengagement in the very populations that your client has been so keen to hire and retain.

Be easy to reach
Getting stuck is frustrating. Not having help leads to disengagement.

Leverage the advantage of a blended learning platform that lets learners send direct messages to the tutor. Even in a classroom setting, online messaging allows trainees to ask a question without bringing a spotlight on their heads. That way, even the most reserved learner can make the progress they deserve.

Engineer touchpoints and engagement features
Don't wait for the failure of disengagement to appear in your end-of-month reporting.

It's critical to build in regular touchpoints and engagement features to ensure learners are still engaged and to identify potential issues. Simply asking increases the likelihood of engagement.

En

rol real-life role models

You can't aspire to be whom you can't see.


Recruit champions and request testimonials from diverse learners along their journey to help target similar learners and to enable you to segment your marketing to various learner groups to help with commercial growth.
Instigate a lifelong learning MOT
From Universities of the Third Age, through MOOCs and TED videos, there's a global shift towards lifelong learning. Tap into the trend and embed this approach with clear role/skill roadmaps embedded into the learning path for the user.

You'll probably need some form of numerical goal to bring this to life and keep it on track.

Rise Up can help
At Rise Up, our purpose is to "Own Today". That only happens when learners are fully engaged and able to easily stay up-to-skill every day.

Learn more about the blended learning platform built for training providers to maximize engagement.

The AELP Spring Conference was full of great debate. In our next post, we'll look at another hot topic: how enterprises can incorporate mental health into their L&D programs.