6 Minutes of reading
What does learning look like in a hybrid workplace?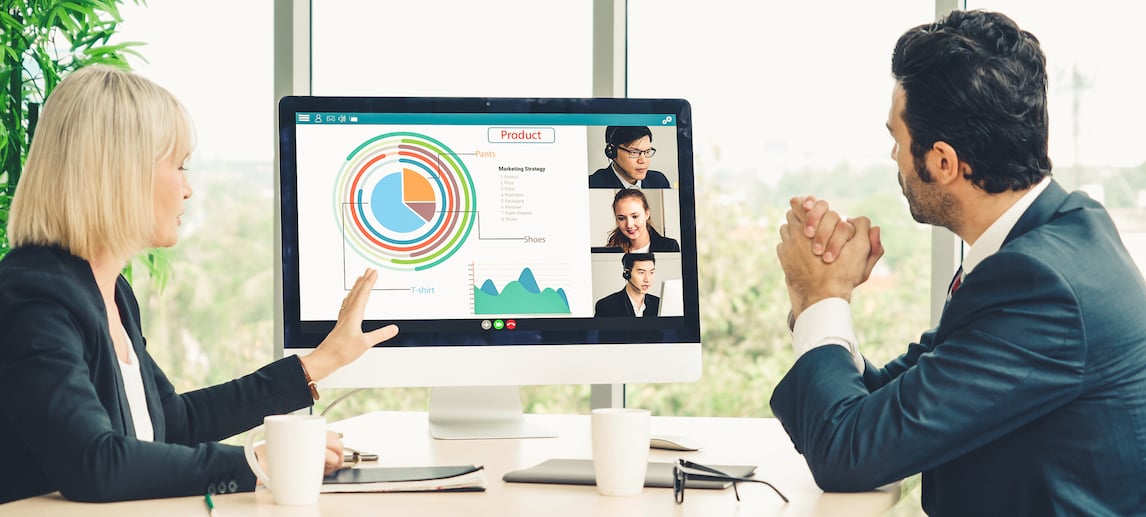 A lot of research has been conducted recently into the make-up of the modern workplace and it all says the same thing: that post-pandemic, most organisations will continue to offer a blend of office and remote working. However, even though business leaders know the future is hybrid, surprisingly few are actively preparing for it.
What executives are saying about the future of hybrid work, a report by the management consultancy McKinsey, found that despite nine out of ten business leaders saying they are adopting a hybrid work model, only a third of them have come up with a comprehensive vision of what that new model will look like.
The future of work is hybrid
Organisations need to start thinking about what the hybrid work model will look like and L&D teams need to think about it because the hybrid model has implications for these teams. A blended workforce requires (and wants) blended learning. It requires a mix of online and offline learning, tailored around organisational and individual needs and learning preferences. As a result, the hybrid workforce is listed as the third most important challenge on the Learning and Performance Institute's list of current L&D challenges. That's how pressing this issue is.
Some organisations are already taking a proactive approach to workforce design in order to get the most out of this new hybrid model.
In March of this year, Microsoft released its 2021 Work Trend Index, claiming that hybrid working is the next big disruption, on a par with the disruption caused by the shift to remote working when Covid-19 precipitated global lockdowns in 2020.
One of the key findings in the report is that employees want the best of both worlds – the ability to work flexibly from a location of their choice (cited by 73% of respondents), while also being able to meet up with colleagues face-to-face and work collaboratively in the same physical space (cited by 67%). The message is clear: people want remote working but also want the time and the space to come together, to collaborate and communicate and to learn from and with each other.
One of the reasons for this is digital fatigue. There has been a lot of research highlighting the growing problem of digital overload. An academic paper called Impact of digital surge during Covid-19 pandemic: A viewpoint on research and practice talks about technostress. Meanwhile, the paper Zoom Exhaustion & Fatigue Scale highlights issues caused by the rapid adoption of Zoom (a thirty fold increase) during the pandemic.
There were roughly 10 million Zoom participants a day in December 19, shooting up to 200 million in March 2020 and 300 million in April 2020.
Too many Zoom and Teams calls, online meetings that drag on and a general increase in online traffic is driving this digital fatigue. Remote working is great, but so is being in the office and collaborating with colleagues and peers face-to-face.
A blended approach to learning
Although the shift to remote working enabled the digital revolution to happen, it has also made many people realise that a blended approach to work and learning produces the best results, individually and collectively.
In September 2021, the Chartered Institute for Personnel and Development (CIPD), the membership body for HR and L&D professionals, produced some hybrid working guidelines and recommendations.
Within that, there is a section on communication, in which the CIPD recommends the implementation of asynchronous tools to counteract the growing culture of long online meetings. The use of asynchronous communication tools, such as Slack or Teams, can enable employees to reduce the time they spend in online meetings.
Choice is critically important in the modern workplace. Learners want to have options about what they learn, how they learn, where and when.
They may want face-to-face interventions for instructional, experiential learning (or really high quality digital learning that enables interaction and experimentation) or to come together with their peers for explorative learning or to engage in problem solving collectively. The CIPD hybrid working report also recommends that organisations foster 'regular social and human connection opportunities to support employee engagement and team building'. Those connection opportunities can be team meetings, they can be learning interventions or networking events, for example.

There aren't really any hard and fast rules, except for that blended learning requires the same approach as any learning approach. Why is the learning happening? What does it need to achieve? What is the problem that needs to be addressed? What are the measurable? And so on.

Another interesting finding that emerged from the Microsoft report is that one generation in particular appears to be feeling the effects of remote working – Generation Z, those aged between 18 and 25. A significant number (60%) say they are merely surviving or are struggling and want more face-to-face interaction with colleagues.
Social interaction, a catalyst for workplace learning
Human interaction is critical in the workplace, whether it's yesterday's workplace, today's workplace or tomorrow's workplace. Humans like to collaborate and communicate and to work as a part of a team. That can be hard to achieve when everything is happening at a distance, as the pandemic has shown. And there's also the undeniable fact that a lot of learning happens informally. It takes place day-to-day, in the flow of work, in the office and in learning environments, as people exchange information, ideas and knowledge with each other.
A lot of that learning is unconscious and it can happen face-to-face or online, but it's hard to replicate in a purely online setting.

Informal learning is particularly important for people who are early on in their careers, such as Generation X, or who have joined a new organisation or industry. They need to tap into this informal learning and they need to be networked. They also need to be motivated and enthused to learn more and perform their jobs better – after all, Gen X and the cohorts that follow are the future leaders and managers so it's vital that they pick up as many skills and pieces of knowledge and information as they develop their careers.

Unfortunately, remote working has led to a rise in silo working, leaving many feeling isolated and disconnected from colleagues, managers and their organisation as a whole. This has implications for individuals and organisations as those networks are very important. They help people in so many ways – to see the bigger picture, to know what's going on in other departments and organisations, to innovate and discover new ideas and ways of doing things, peer-to-peer learning…

With this in mind, learning teams need to design interventions that bring people together, that enable those critical networks to form and flourish. Those interventions can be digital or face-to-face, or a mix of both, but it is something that definitely needs to be built into the learning strategy. Effective blended learning programmes ensure that learners interact with each other, with facilitators and trainers, enabling them to engage with the learning and with their networks on a deeper level.

The takeaway here is that a blend of learning interventions is required. Employees want offline and online learning. Most of all, they want the learning to be good, to help them do their jobs better and help them get on with their careers. And if it helps them to connect with colleagues and peers at the same time, even better.