6 Minutes of reading
Learning in the flow of work: AKKA Case Study
It's not so long ago that learning was seen as a one-off event, something that happened in a classroom. These days, however, we know that learning happens all the time and that when done well, it's something that we actively engage in. Sometimes it's in the classroom, but more often than not it happens elsewhere, when you're actually working. It's called learning in the flow of work.
What is learning in the flow of work
The learning analyst and thought leader Josh Bersin is credited with coining the phrase. In an article called A New Paradigm For Corporate Training: Learning In The Flow Of Work, he outlines the shift from classroom learning to workplace learning.
He highlighted some interesting stats from LinkedIn's 2018 Workplace Learning & Development Report, in which over 4,000 L&D business professionals were asked how their workplace learning could be improved. The response: 68% preferred to learn at work, 58% preferred to learn at their own pace and 49% preferred to learn at the point of need.

Employees want learning that is immediate, accessible and relevant. They want to be able to consume it in small chunks, as and when they need it, hence the rise in trends such as microlearning and YouTube tutorials. They don't want to have to wait two or three months for a training course to come round. In fact, they don't even want to wait for a week – they want immediate answers that help them do their job better and more easily, in the moment. Asynchronous learning is increasingly prevalent, as learners access learning when they need it and when suits them, rather than at a time dictated by their employer.
Employers want all of this too. The business landscape has been changing at an unprecedented rate and then Covid-19 hit and turned everything upside down. In order to deal with this constant change and uncertainty, organisations need to foster a culture of learning and innovation. They need employees to continuously update their skills and knowledge so that the organisation has the skills it needs for current and future success. That can only happen with the right resources and attitudes.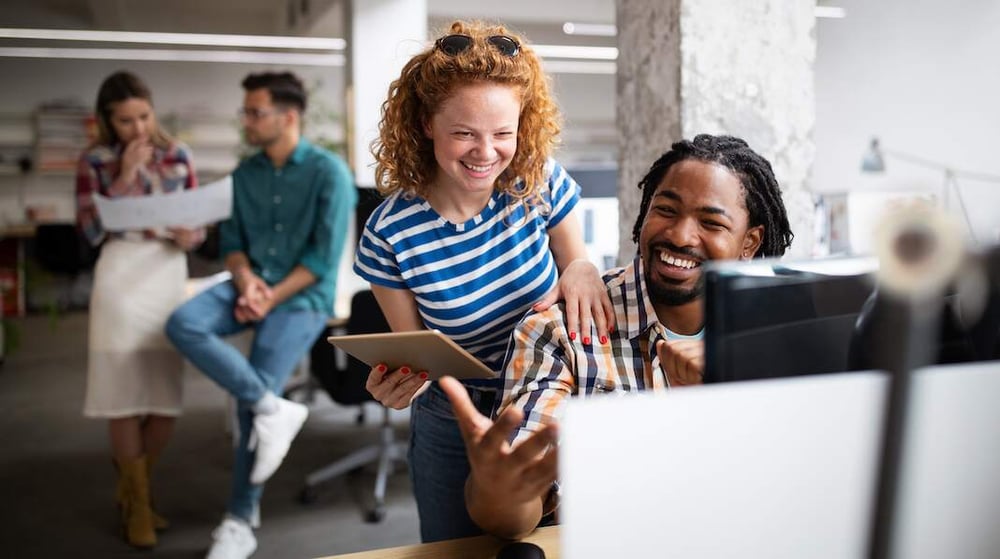 There are lots of platforms and tools that enable employees to learn in the flow of work. Here at Rise Up we have collaborated with Microsoft Teams to create an app that sits on a desktop or mobile device within Teams, enabling employees to easily access learning resources throughout their working day.
The first customer to use the solution was AKKA Technologies, a leading engineering and technology consulting group with a workforce of roughly 50,000. AKKA Technologies launched a trial of the app in a bid to drive engagement with learning.
Case study: AKKA Technologies
Natalie Macq, Learning Program Manager at AKKA Technologies, gave a talk at this year's Learning Technologies conference on why the company started using the app and the effect it's had. We'd like to share some of the insights from that talk with you here.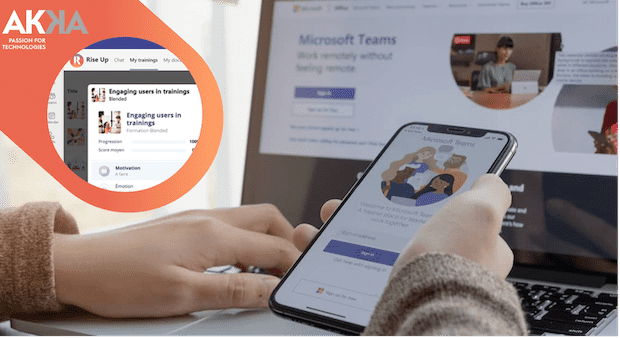 The challenge
AKKA Technologies came to Rise Up with several learning challenges that needed addressing. Engagement in online learning was low, for various reasons, and the company wanted to turn that around.
"We had a very low rate of e-learning completion," says Macq. "People were not interested, didn't see the point of it, didn't know where to get links, said it was difficult to access or didn't have time… There were all sorts of issues."
Project aim
A new approach was needed, one that would help employees access learning quickly and easily and improve attitudes to learning throughout the organisation. In order to achieve behaviour change, those barriers to learning around access, time and engagement had to be tackled.
The solution

The solution was a simple one – integrating the Rise Up app into Microsoft Teams. This worked very well for AKKA Technologies because Teams was already installed on company desktops and mobile devices.
"What could be better than integrating the LMS with a tool that every single employee of the company uses every single day?" says Macq. "The whole point of it was to make it part of the landscape of the computer. It was ideal."
To trial the technology, Rise Up gathered together a small team from different countries. The aim was to see how the app worked, if it worked and how people responded to it.
"It was unanimously positive," says Macq. "We had really good feedback. It became part of the environment. It's a really good tool – it's just there all day, which improves engagement."


Deployment of the app was very quick, as was onboarding. Because of SSO (single sign-on) user matching, as soon as the app was launched, employees were connected to their Rise Up account via a Microsoft IT recognition system. All of these steps in the process were so seamless and painless that the employee experience was positive from the word go.

Training modules, assessments, certificates, and Rise Up's virtual training coach are all incorporated into the app, making it easy for employees and their managers to keep on top of learning. It also reduces the administrative burden for everyone.

The virtual training coach (chatbox) sends daily reminders to people, prompting them to think about their learning. Weekly messages pop up as well, to keep people engaged.

Macq says employees like the fact that it is so simple and easy to use and that everything is stored in one place. It's still early days in terms of hard stats, but the app has boosted collaboration, enabled employees to engage in microlearning more frequently and is developing what AKKA Technologies calls a 'training reflex' among the workforce.
Read more about the case study here, including challenges and project aim, solution and implementation, and outcomes.