6 Minutes of reading
Reskilling: what it is and why it's set to be a game-changer
The world of work is set to undergo a global reskilling revolution. That's according to analysis conducted by the World Economic Forum, which has claimed that almost one third of all jobs worldwide will be transformed by technology in 2030.

As jobs evolve, so will the skills required to perform them. Reskilling workforces will therefore be crucial to ensure that employees have the skills they need to perform the jobs of the future and fulfil their potential.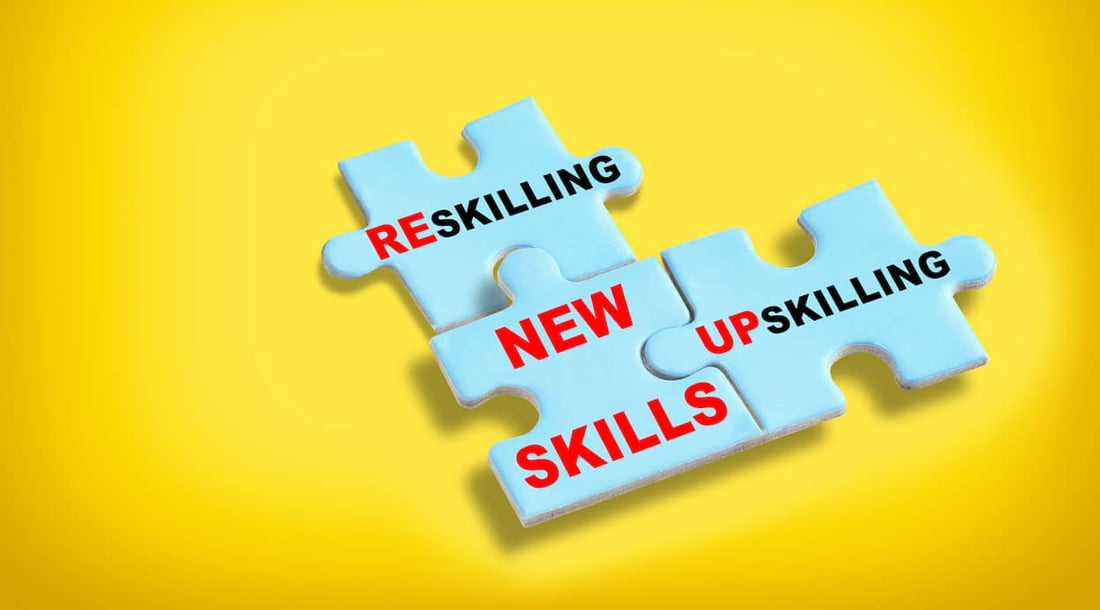 What is reskilling?
Reskilling is the process of providing training to employees to enable them to learn the skills required for an entirely different job. In other words, reskilling is about re-purposing your existing workforce.

Reskilling is not to be confused with upskilling, which is the process of providing training to employees to enable them to develop new skills or strengthen existing ones to optimise their performance in their current role.
Why is there a need for reskilling?
The changing world of work
Technology is not only changing our ways of working, but the types of jobs we do, too.

According to a report published by PwC, 30% of UK jobs could be at high risk of automation by the early 2030s. The most precarious sectors are transportation and storage, manufacturing, and wholesale and retail.
But what about the sectors with potential for growth? The World Economic Forum estimates that job growth will come from seven key areas:
Care;
Engineering and cloud computing;
Sales marketing and content;
Data and AI;
Green jobs;
People and culture;
Specialised project management.

Clearly, there is a divide between the skills required for current roles versus the skills required for future roles. While this might seem daunting to employers and employees, it in fact presents a great opportunity to start reskilling workers for emerging jobs.
The benefits of reskilling
It reduces employee turnover: by re-purposing employees for new roles, employers can hang on to their existing workforce, without having to incur the costs associated with rehiring. They can also avoid the dip in morale and severance costs associated with lay-offs.

It attracts new employees: embedding a learning culture within your organisation is a highly attractive initiative. It shows that you really invest in your people, and demonstrates that by joining your company, potential employees can expect to gain the skills they need to remain competitive.

It makes for a happier workforce: from an employee perspective, reskilling is a great opportunity to change career path. Employees can also enjoy a greater sense of job security in knowing that they can develop and evolve with the business, rather than being cast aside as soon as their old skills become redundant.

How can you start reskilling your workforce?
The good news is that reskilling is something you can set in motion right now to ensure that you get ahead of the game and anticipate what will be required of your future workforce. Here are our 5 simple steps for reskilling.
1. Prioritise the skills you will need
It might be useful to identify some trends for how your organisation has been evolving in recent years. Have you seen a big recruitment drive in one area of the business, coupled with a drop in hiring in another area?
You can then start to think about where you're heading. What skills are you likely to need to continue performing well?
2. Identify which employees you want to reskill
You could start by creating a database of the skills you already have (based on an employee skills survey or department-by-department skills analysis). Then, you can take a look at which employees could easily transition to new roles.

Say that you know that your IT department is going to need to expand to assist your company with its digital transformation; you might want to look at the skills you have available in other departments that may become more automated in future, such as administration. Then, look for employees with the most easily transferable skills.

For instance, if you have an administrator who has gained experience learning to use different types of software, they could be a great fit for a systems role. Equally, there are lots of soft skills that are highly valuable in IT roles, such as communication, problem solving and a desire to help others – and these all happen to be attributes of customer service roles, too.
3. Provide incentives for reskilling
Once you've decided how you want the skill set of your organisation to look in future, you need to gain employee buy-in. It might be that an employee is happy in their current role and reluctant to reskill for a new position. How can you communicate to them that reskilling is the best course of action for them and for the company? What benefits will they gain?

You'll also need to ensure that you give people enough time to learn new skills and monitor their progress. For example, you could set SMART learning goals as part of their performance review.
4. Design tailored training courses
In terms of the training itself, you'll want to offer training courses adapted to specific skills. Think about the formats you'll use, too. For instance, you could adopt a blended learning strategy, offering a mix of in-person sessions and e-learning modules. With blended learning platforms like Rise Up, you can make the learning process highly personalised, which improves trainee engagement and success levels.
5. Provide intra-departmental training and rotations
If the skill you are teaching already exists in a different department, why not give your trainee a mentor from that department, or offer them the chance to spend some time shadowing someone else?
What makes reskilling a game-changer?
While the aim of reskilling is to provide employees with the skills they'll need to succeed in a different role, reskilling is ultimately about embedding a culture of learning within your organisation.

The best way to meet future challenges is to ensure that your workforce is constantly learning and adapting to evolving requirements, whether they are related to regulations, technology or business transformations.