9 Minutes of reading
Rise Up: Support through the learning leaders' challenges of 2022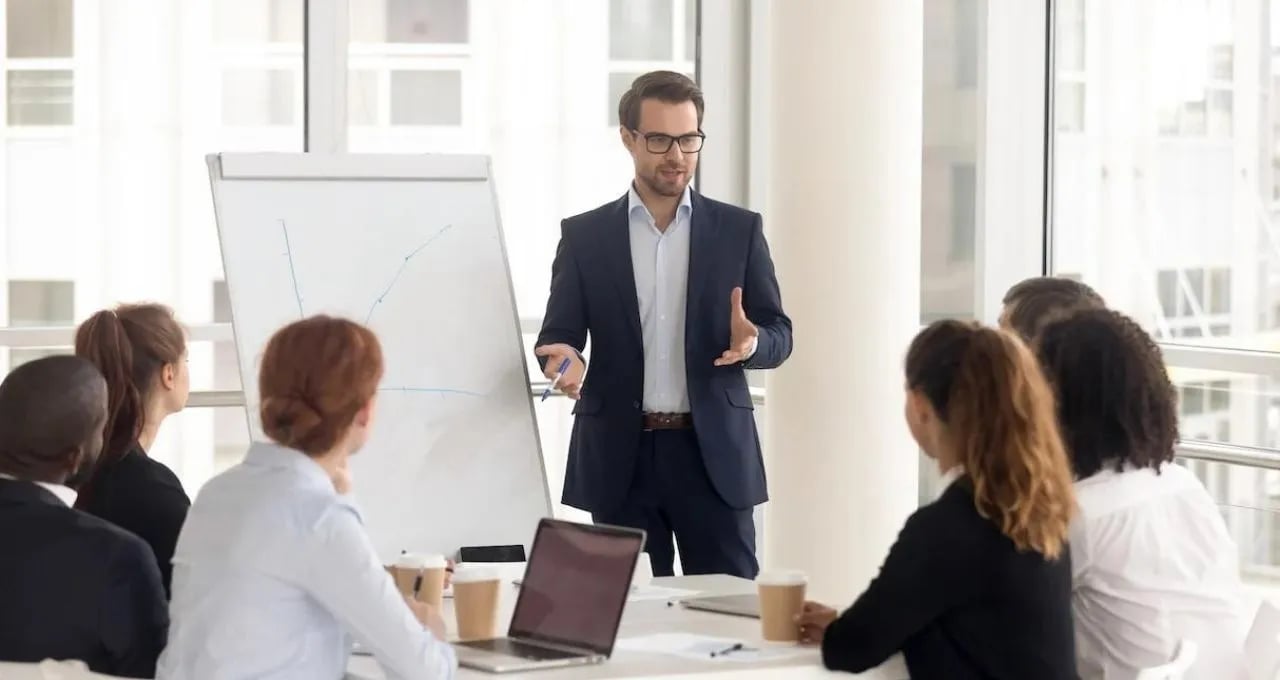 The world of work has been irrevocably altered by the pandemic, and new solutions are required to meet the needs of today's businesses. At Rise Up, we specialise in blended learning solutions, and have long had to take into consideration the balance between office-based and remote working. Thanks to our platform's unique set of advantages, we are able to support L&D leaders in overcoming their learning challenges.
LPI: Learning leaders' top 5 challenges
The learning and development sector is constantly evolving, encompassing new technologies and adapting to our changing world of work. Within your own business, you might still be working out which strategies are most effective at engaging your employees, or attempting to balance online and in-person training for the first time.
To gauge the state of the industry, the LPI has spoken to over 10,000 learning leaders. Their responses illuminate some of the key challenges facing the L&D sector.
Out of these thousands of responses, it has become clear that many of the major issues that existed before the pandemic remain vital today. These include inspiring people to learn together with implementing new technologies—and, crucially, ensuring that companies do not focus on one of these to the detriment of the other.
With this in mind, it makes perfect sense to turn to a platform that specialises in blended learning. That's where Rise Up comes in. Below, we'll go through each of the top 5 challenges facing learning leaders as identified by the LPI—and we'll show you how we can help your business to meet them.
1. Embedding learning into the flow of work
The number one challenge learning leaders are facing is one that will undoubtedly be familiar to many of you: making learning a seamless part of working life. All too often, training activities are seen as an interruption to day-to-day tasks rather than a crucial part of professional development. Changing these attitudes remains a struggle, and requires motivating employees to embrace learning.
It's clear that this objective cannot be achieved without some of the steps above—in particular, the creation of a business-wide learning culture. However, it also requires an understanding of the way individuals within your organisation work, encouragement to build learning into existing routines, and the knowledge of which methods will be most effective at reaching people.
We partnered with AKKA Technologies to help them implement their own blended learning experience across numerous countries. By using the Microsoft Teams Rise Up application, we were successful in embedding learning into the flow of work.
Additionally, by offering a single sign-on and integrating with other content providers, we made it simple to access a variety of training tools from a single platform. This resulted in huge improvements to sales KPIs, time savings, and a vastly improved learning experience.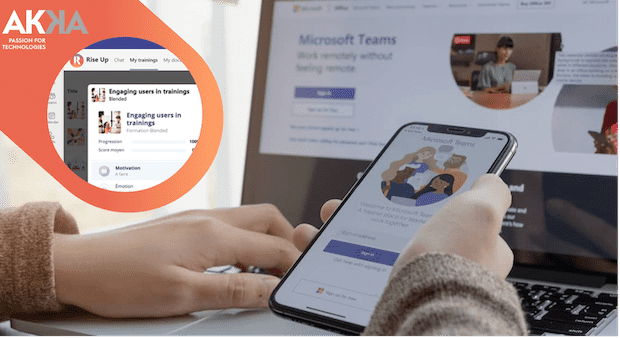 2. Building a digital learning culture
Having the right tech is only one part of the story. A training programme can only succeed if there is a solid culture underpinning it. Many businesses neglect the importance of creating a learning culture, and it's certainly something that won't happen overnight. However, by fostering this environment within your organisation, you can help employees feel more motivated to learn, in turn increasing their feelings of fulfilment as well as their productivity. In short, you empower learners, enabling them to reach their fullest potential.
Rise Up was instrumental in helping our client Decathlon to build a learning culture across its international network of stores. The bedrock of this culture is an atmosphere of trust. Team leaders and employees together discuss their own strengths and weaknesses in an honest and open fashion, enabling people to discover ways in which they can improve their performance via training. Employees can then create their own development plan, empowering them to gain new skills.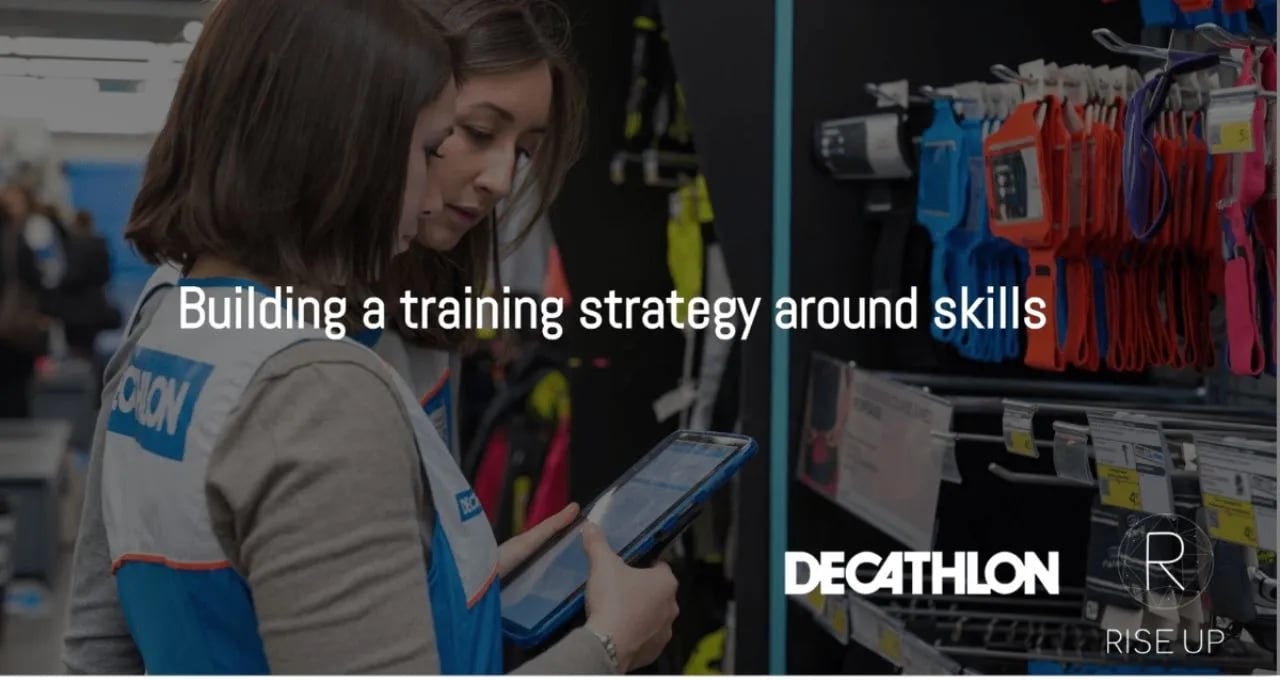 By providing the tools for Decathlon to adopt a blended learning approach, Rise Up enables the company's employees to find the training methods that suit them best, including face-to-face sessions and digital courses. Leaders can then use Rise Up's reporting tools to track learner progress and provide support.
In 2020 alone, 93,000 employees trained via Decathlon Academy, with feedback showing overwhelming enthusiasm towards gaining new skills via the platform.
Whether you're an individual looking to boost your own personal growth, or a business looking to implement new programmes, the benefits of blended learning are clear—and Rise Up can help you to put it all into practice.
3. The hybrid workforce
Before the COVID-19 pandemic, flexible working was beginning to become more common across industries. Now, those patterns have become entrenched, and 84% of UK businesses are planning to have a hybrid, flexible or remote workforce over the long term. This raises important questions regarding how to ensure workers receive the same quality of training and support while working from home as they would in an office setting.
Achieving the best results for each learner begins with the understanding that each individual learns differently. This therefore means that any effective training solution has to be capable of supporting a variety of learning methods. Rise Up has always taken a blended-first approach, making it easy for businesses to plan face-to-face training and e-learning courses all in the same platform. Our platform's tools include everything from content authoring to progress tracking, making it a one-stop-shop for all your training needs.
A key example of the success of this approach is our work with Assystem. Having formerly operated training solely via face-to-face methods, we enabled the business to implement a blended learning strategy. This helped them to overcome common challenges that come with a hybrid workforce, such as scalability of infrastructure and availability of resources.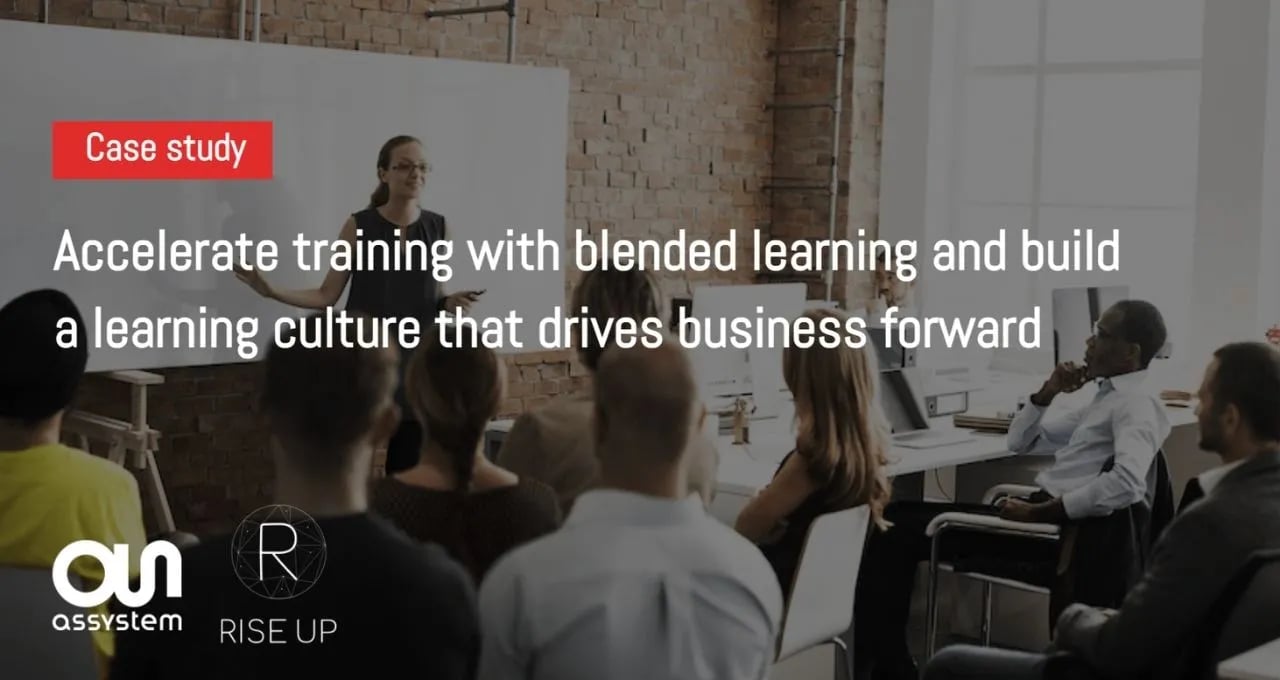 Rise Up played a key role in both functional and technical implementation of Assystem's new blended learning approach. This proved to be a major success, with training now available to over 7,000 employees across 15 countries, with a completion rate of over 89% and faster progression.
4. Keeping informed of best practices
As we've already touched upon, the L&D sector is fast-moving. Companies who don't keep up with the latest developments risk falling behind, while those with their ear to the ground can achieve the best possible results. This is why it's important to use the latest technology as well as ensuring you know the best practices to help you implement your strategies.
With Rise Up, you need never worry about being out of the loop. We offer personalised guidance to our clients, including training, workshops and regular meetings, in addition to online support and a dedicated customer success manager.
Another way in which we help our clients to succeed is through our broad range of resources. This includes the Rise Up Academy, which allows users to get information about our platform and its digital learning tools, as well as interacting with other learning leaders via our forum. Plus, you can also access our additional resources, such as webinars and interviews, to stay up-to-date with the world of L&D.
5. Dealing with multiple stakeholders
You may have the best of intentions when planning out your learning strategy, but these efforts can come to nought if you are unable to get all the relevant stakeholders on board. Key issues here include building relationships, improving communication, and encouraging engagement and buy-in.
The Rise Up platform is built to facilitate these goals, helping people at all levels of the business to connect with training. For example, learners and trainers alike can communicate with one another via a range of social features included in the portal, from virtual whiteboards and chat rooms through to tools such as Wooclap and Teams that can be used during sessions. These help to foster a collaborative atmosphere that goes beyond what is possible with traditional in-person learning alone.
By working to shift perceptions of digital learning, we have helped our clients to feel more engaged with their training. For example, in our work with Domino's Pizza, we focused on encouraging collaboration between the company's restaurants, making it easier for trainers and administrators to communicate with one another, and improving the learner experience. This enabled Domino's to successfully put training courses in place which could be accessed by all of its franchisees, and allowed learners to take courses at their own pace.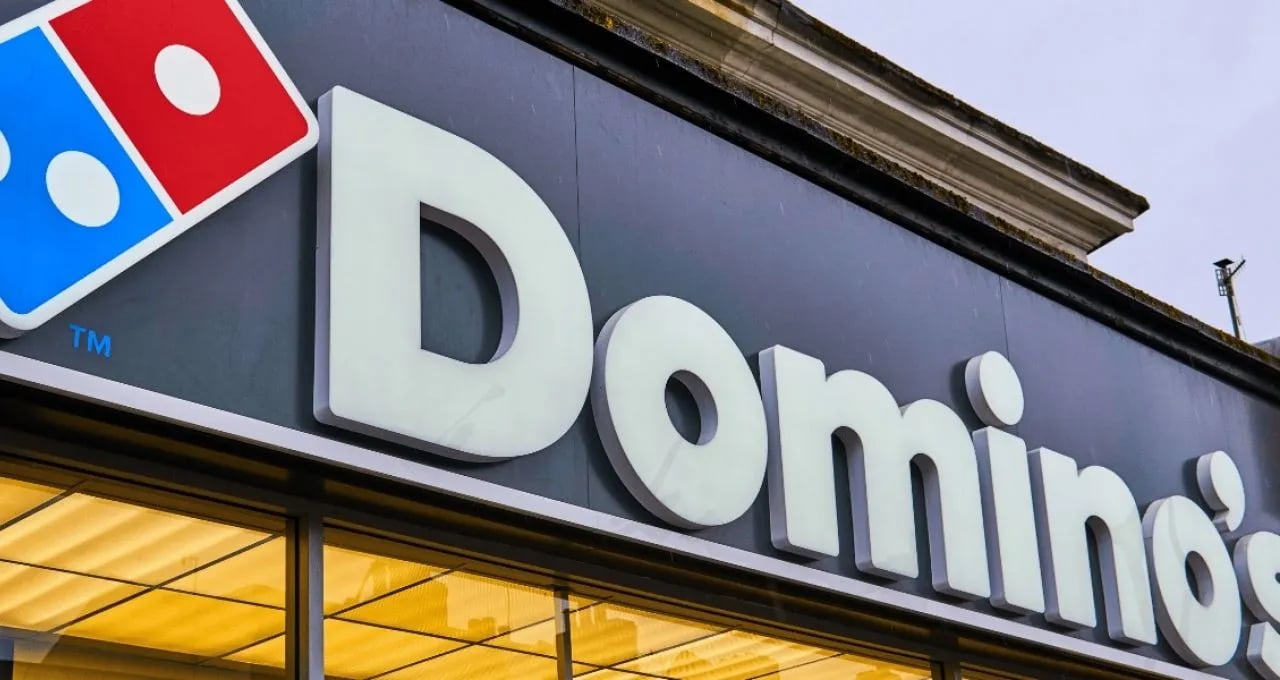 How can Rise Up help you?
Rise Up has helped organisations of all sizes to tackle their learning and development challenges and to boost productivity and performance. If you think your business could benefit from our blended-first approach, then we'd love to hear from you. Simply get in touch with any questions you may have about taking your training programmes to the next level, or request a demo to see Rise Up in action for yourself.